{"id":189910122502,"title":"Tucker R Class V10 BBQ","handle":"tucker-v10-r-class-bbq","description":"\u003ch4\u003eDescription\u003c\/h4\u003e\n\u003cdiv class=\"videoWrapper\"\u003e\n\u003c!-- Copy \u0026 Pasted from YouTube --\u003e \u003ciframe width=\"560\" height=\"315\" src=\"https:\/\/www.youtube.com\/embed\/OFTbAmeoTpg\" frameborder=\"0\" allow=\"autoplay; encrypted-media\" allowfullscreen=\"\"\u003e\u003c\/iframe\u003e\n\u003c\/div\u003e\n\u003cp\u003e \u003c\/p\u003e\n\u003cp\u003e\u003ca title=\"Need Help Assembling?\" href=\"https:\/\/tuckerbbq.com.au\/products\/bbq-assembly-sydney-metro?variant=12300577144912\" referrerpolicy=\"origin\" data-mce-href=\"https:\/\/tuckerbbq.com.au\/products\/bbq-assembly-sydney-metro?variant=12300577144912\"\u003e\u003cimg style=\"display: block; margin-left: auto; margin-right: auto;\" src=\"https:\/\/cdn.shopify.com\/s\/files\/1\/1861\/0291\/files\/need_assembling_480x480.jpg?v=1608243040\" alt=\"Need Help Assembling?\" data-mce-src=\"https:\/\/cdn.shopify.com\/s\/files\/1\/1861\/0291\/files\/need_assembling_480x480.jpg?v=1608243040\"\u003e\u003c\/a\u003e\u003c\/p\u003e\n\u003cp\u003eAt Tucker we believe our range of stainless steel BBQs are the best in Australia.\u003c\/p\u003e\n\u003cp\u003eOur new R Class model BBQs have been designed and developed with over 30 years of experience culminating into what we believe is the best BBQ in Austraila.\u003c\/p\u003e\n\u003cp\u003e\u003cspan\u003eThe R Class V10 on Cabinet is known as the 'V10' as it has 5 x R Class Dual Burners.The Cabinet includes self closing doors, the Tucker heavy duty wheels and commercial fixed wings. The shelf tops are easy lift off from the wings and double as serving trays.\u003c\/span\u003e\u003c\/p\u003e\n\u003cp\u003e\u003cspan\u003eThe R Class on Cabinet comes standard \u003c\/span\u003e\u003cspan\u003ewith stainless steel jacket (insulation blanket available as an add on) so you can install it safely into an outdoor kitchen made of various materials. We have fixed legs instead of wheels, and the final result is seamless integration into your own cabinetry if desired.\u003c\/span\u003e\u003c\/p\u003e\n\u003cp\u003eYou can choose between a slimline stainless steel easy-hinge lid, or a dynamic roasting hood with window.\u003c\/p\u003e\n\u003cp\u003e\u003cspan\u003eAll R Class models feature:\u003c\/span\u003e\u003c\/p\u003e\n\u003cp\u003e\u003cspan\u003e- Heavy Duty Firebox Design\u003cbr\u003e\u003c\/span\u003e\u003cspan\u003e- Exclusive H Pattern Stainless Steel Tube Burners\u003cbr\u003e\u003c\/span\u003e\u003cspan\u003e- Burners all with top vertical ports to reduce fatigue and improve heat\u003cbr\u003e\u003c\/span\u003e\u003cspan\u003e- Dual Stainless Steel Flare Guards\u003cbr\u003e- Upgraded Stainless Steel Knobs\u003cbr\u003e\u003c\/span\u003e\u003cspan\u003e- Individual Piezo Ignition on Each Valve\u003cbr\u003e\u003c\/span\u003e\u003cspan\u003e- Stainless Steel Manifold with a Lifetime Warranty\u003cbr\u003e\u003c\/span\u003e\u003cspan\u003e- Concealed Easy to Clean Cassette Grease Tray\u003cbr\u003e\u003c\/span\u003e\u003cspan\u003e- Tucker Stainless Plates \u0026amp; Grills\u003cbr\u003e\u003c\/span\u003e\u003cspan\u003e- LPG or Natural Gas\u003cbr\u003e- Cabinets with Self Closing Doors\u003cbr\u003e\u003c\/span\u003e\u003cspan\u003e- Optional Space Saving High Roasting Hood\u003cbr\u003e\u003c\/span\u003e\u003cspan\u003e- Optional 3 Ring Side Burner \u0026amp; Wok Roasting Hood\u003c\/span\u003e\u003cbr\u003e- Tucker Stainless Steel Roasting Pan and Rack included\u003c\/p\u003e\n\u003cp\u003e\u003cspan\u003eUnlike other manufacturers if you select Natural Gas, we will supply your unit already converted to Natural Gas ready for plug and play (Most just send a Natural Gas Kit which requires an authorised person to change over the jets).\u003c\/span\u003e\u003c\/p\u003e\n\u003ch4\u003eSpecifications:\u003cbr\u003e\u003cbr\u003e\n\u003c\/h4\u003e\n\u003cp\u003e\u003cstrong\u003eData Sheet\u003c\/strong\u003e:\u003c\/p\u003e\n\u003cp\u003e\u003ca href=\"https:\/\/cdn.shopify.com\/s\/files\/1\/1861\/0291\/files\/R_Class_V10_Data_Sheet_V02.08.2021.pdf?v=1627908364\" title=\"R Class V10 Data Sheet.pdf\" target=\"_blank\"\u003e\u003cspan style=\"text-decoration: underline;\"\u003eR Class V10 Data Sheet.pdf\u003c\/span\u003e\u003c\/a\u003e\u003c\/p\u003e\n\u003cp\u003e\u003cspan style=\"text-decoration: underline;\"\u003e\u003cbr\u003e\u003c\/span\u003e\u003c\/p\u003e\n\u003cp data-mce-fragment=\"1\"\u003e\u003cstrong data-mce-fragment=\"1\"\u003eDimensions\u003c\/strong\u003e:\u003c\/p\u003e\n\u003cp data-mce-fragment=\"1\"\u003e\u003cspan data-mce-fragment=\"1\"\u003e\u003ca data-mce-fragment=\"1\" href=\"https:\/\/cdn.shopify.com\/s\/files\/1\/1861\/0291\/files\/R_Class_V10_BBQ_on_cabinet_trolley_dimensions.pdf?467696688974632207\" referrerpolicy=\"origin\" target=\"blank\" data-mce-href=\"https:\/\/cdn.shopify.com\/s\/files\/1\/1861\/0291\/files\/R_Class_V10_BBQ_on_cabinet_trolley_dimensions.pdf?467696688974632207\"\u003eR Class V10 Dimensions.pdf\u003c\/a\u003e\u003c\/span\u003e\u003c\/p\u003e\n\u003cp\u003e\u003cspan style=\"text-decoration: underline;\"\u003e\u003cbr\u003e\u003c\/span\u003e\u003c\/p\u003e\n\u003ch4\u003e\u003cstrong\u003eManuals\u003c\/strong\u003e\u003c\/h4\u003e\n\u003cp\u003e\u003cb\u003eManuals\u003c\/b\u003e:\u003c\/p\u003e\n\u003cp\u003e\u003ca href=\"https:\/\/cdn.shopify.com\/s\/files\/1\/1861\/0291\/files\/R_Class_Cabinet_Shelfs_Manual_2019_V05.12.19.pdf?4187\" referrerpolicy=\"origin\"\u003e\u003cspan style=\"text-decoration: underline;\"\u003eR Class Side Shelves Assembly Instructions.pdf\u003c\/span\u003e\u003c\/a\u003e\u003c\/p\u003e\n\u003cp\u003e\u003ca href=\"https:\/\/cdn.shopify.com\/s\/files\/1\/1861\/0291\/files\/R_Class_and_GTR_Cabinet_Manual_V27.11.19_s.pdf?4188\" referrerpolicy=\"origin\"\u003e\u003cspan style=\"text-decoration: underline;\"\u003eR Class Cabinet Trolley Instructions.pdf\u003c\/span\u003e\u003c\/a\u003e\u003c\/p\u003e\n\u003cp\u003e\u003ca href=\"https:\/\/cdn.shopify.com\/s\/files\/1\/1861\/0291\/files\/R_Class_Roasting_Hood_Instructions_V03.01.20.pdf?4279\" title=\"R Class BBQ Roasting Hood instructions manual\" referrerpolicy=\"origin\"\u003e\u003cspan style=\"text-decoration: underline;\"\u003eR Class Roasting Hood Instructions.pdf\u003c\/span\u003e\u003c\/a\u003e\u003c\/p\u003e","published_at":"2017-04-26T12:59:21+10:00","created_at":"2018-03-02T11:55:31+11:00","vendor":"Tucker Australia","type":"BBQ","tags":["4 Burners","Bold Discount","Freestanding","Gas","Natural Gas","R Class","Tucker","Tucker BBQ"],"price":437500,"price_min":437500,"price_max":488200,"available":true,"price_varies":true,"compare_at_price":460600,"compare_at_price_min":460600,"compare_at_price_max":513900,"compare_at_price_varies":true,"variants":[{"id":42189784154344,"title":"LPG Gas + $36 \/ No Thanks \/ No Thanks","option1":"LPG Gas + $36","option2":"No Thanks","option3":"No Thanks","sku":"RCLASS BBQ-2","requires_shipping":true,"taxable":false,"featured_image":null,"available":true,"name":"Tucker R Class V10 BBQ - LPG Gas + $36 \/ No Thanks \/ No Thanks","public_title":"LPG Gas + $36 \/ No Thanks \/ No Thanks","options":["LPG Gas + $36","No Thanks","No Thanks"],"price":437500,"weight":0,"compare_at_price":460600,"inventory_quantity":0,"inventory_management":null,"inventory_policy":"deny","barcode":null,"requires_selling_plan":false,"selling_plan_allocations":[]},{"id":42189784187112,"title":"LPG Gas + $36 \/ No Thanks \/ V10 Rotisserie Kit + $270","option1":"LPG Gas + $36","option2":"No Thanks","option3":"V10 Rotisserie Kit + $270","sku":"RCLASS BBQ-3","requires_shipping":true,"taxable":false,"featured_image":null,"available":true,"name":"Tucker R Class V10 BBQ - LPG Gas + $36 \/ No Thanks \/ V10 Rotisserie Kit + $270","public_title":"LPG Gas + $36 \/ No Thanks \/ V10 Rotisserie Kit + $270","options":["LPG Gas + $36","No Thanks","V10 Rotisserie Kit + $270"],"price":463200,"weight":0,"compare_at_price":487600,"inventory_quantity":0,"inventory_management":null,"inventory_policy":"deny","barcode":null,"requires_selling_plan":false,"selling_plan_allocations":[]},{"id":42189784219880,"title":"LPG Gas + $36 \/ 5B Hooded Cover - Wings Up + $150 \/ No Thanks","option1":"LPG Gas + $36","option2":"5B Hooded Cover - Wings Up + $150","option3":"No Thanks","sku":"RCLASS BBQ-4","requires_shipping":true,"taxable":false,"featured_image":null,"available":true,"name":"Tucker R Class V10 BBQ - LPG Gas + $36 \/ 5B Hooded Cover - Wings Up + $150 \/ No Thanks","public_title":"LPG Gas + $36 \/ 5B Hooded Cover - Wings Up + $150 \/ No Thanks","options":["LPG Gas + $36","5B Hooded Cover - Wings Up + $150","No Thanks"],"price":451800,"weight":0,"compare_at_price":475600,"inventory_quantity":-1,"inventory_management":null,"inventory_policy":"deny","barcode":null,"requires_selling_plan":false,"selling_plan_allocations":[]},{"id":42189784252648,"title":"LPG Gas + $36 \/ 5B Hooded Cover - Wings Up + $150 \/ V10 Rotisserie Kit + $270","option1":"LPG Gas + $36","option2":"5B Hooded Cover - Wings Up + $150","option3":"V10 Rotisserie Kit + $270","sku":"RCLASS BBQ-5","requires_shipping":true,"taxable":false,"featured_image":null,"available":true,"name":"Tucker R Class V10 BBQ - LPG Gas + $36 \/ 5B Hooded Cover - Wings Up + $150 \/ V10 Rotisserie Kit + $270","public_title":"LPG Gas + $36 \/ 5B Hooded Cover - Wings Up + $150 \/ V10 Rotisserie Kit + $270","options":["LPG Gas + $36","5B Hooded Cover - Wings Up + $150","V10 Rotisserie Kit + $270"],"price":477400,"weight":0,"compare_at_price":502600,"inventory_quantity":0,"inventory_management":null,"inventory_policy":"deny","barcode":null,"requires_selling_plan":false,"selling_plan_allocations":[]},{"id":42189784285416,"title":"LPG Gas + $36 \/ 5B Drop Shelf Cover - Wings Down + $120 \/ No Thanks","option1":"LPG Gas + $36","option2":"5B Drop Shelf Cover - Wings Down + $120","option3":"No Thanks","sku":"RCLASS BBQ-6","requires_shipping":true,"taxable":false,"featured_image":null,"available":true,"name":"Tucker R Class V10 BBQ - LPG Gas + $36 \/ 5B Drop Shelf Cover - Wings Down + $120 \/ No Thanks","public_title":"LPG Gas + $36 \/ 5B Drop Shelf Cover - Wings Down + $120 \/ No Thanks","options":["LPG Gas + $36","5B Drop Shelf Cover - Wings Down + $120","No Thanks"],"price":448900,"weight":0,"compare_at_price":472600,"inventory_quantity":0,"inventory_management":null,"inventory_policy":"deny","barcode":null,"requires_selling_plan":false,"selling_plan_allocations":[]},{"id":42189784318184,"title":"LPG Gas + $36 \/ 5B Drop Shelf Cover - Wings Down + $120 \/ V10 Rotisserie Kit + $270","option1":"LPG Gas + $36","option2":"5B Drop Shelf Cover - Wings Down + $120","option3":"V10 Rotisserie Kit + $270","sku":"RCLASS BBQ-7","requires_shipping":true,"taxable":false,"featured_image":null,"available":true,"name":"Tucker R Class V10 BBQ - LPG Gas + $36 \/ 5B Drop Shelf Cover - Wings Down + $120 \/ V10 Rotisserie Kit + $270","public_title":"LPG Gas + $36 \/ 5B Drop Shelf Cover - Wings Down + $120 \/ V10 Rotisserie Kit + $270","options":["LPG Gas + $36","5B Drop Shelf Cover - Wings Down + $120","V10 Rotisserie Kit + $270"],"price":474600,"weight":0,"compare_at_price":499600,"inventory_quantity":0,"inventory_management":null,"inventory_policy":"deny","barcode":null,"requires_selling_plan":false,"selling_plan_allocations":[]},{"id":42077522624744,"title":"Natural Gas + $149 \/ No Thanks \/ No Thanks","option1":"Natural Gas + $149","option2":"No Thanks","option3":"No Thanks","sku":"RCLASS BBQ-8","requires_shipping":true,"taxable":false,"featured_image":null,"available":true,"name":"Tucker R Class V10 BBQ - Natural Gas + $149 \/ No Thanks \/ No Thanks","public_title":"Natural Gas + $149 \/ No Thanks \/ No Thanks","options":["Natural Gas + $149","No Thanks","No Thanks"],"price":448300,"weight":0,"compare_at_price":471900,"inventory_quantity":0,"inventory_management":null,"inventory_policy":"deny","barcode":null,"requires_selling_plan":false,"selling_plan_allocations":[]},{"id":42189784350952,"title":"Natural Gas + $149 \/ No Thanks \/ V10 Rotisserie Kit + $270","option1":"Natural Gas + $149","option2":"No Thanks","option3":"V10 Rotisserie Kit + $270","sku":"RCLASS BBQ-9","requires_shipping":true,"taxable":false,"featured_image":null,"available":true,"name":"Tucker R Class V10 BBQ - Natural Gas + $149 \/ No Thanks \/ V10 Rotisserie Kit + $270","public_title":"Natural Gas + $149 \/ No Thanks \/ V10 Rotisserie Kit + $270","options":["Natural Gas + $149","No Thanks","V10 Rotisserie Kit + $270"],"price":473900,"weight":0,"compare_at_price":498900,"inventory_quantity":0,"inventory_management":null,"inventory_policy":"deny","barcode":null,"requires_selling_plan":false,"selling_plan_allocations":[]},{"id":42189784383720,"title":"Natural Gas + $149 \/ 5B Hooded Cover - Wings Up + $150 \/ No Thanks","option1":"Natural Gas + $149","option2":"5B Hooded Cover - Wings Up + $150","option3":"No Thanks","sku":"RCLASS BBQ-10","requires_shipping":true,"taxable":false,"featured_image":null,"available":true,"name":"Tucker R Class V10 BBQ - Natural Gas + $149 \/ 5B Hooded Cover - Wings Up + $150 \/ No Thanks","public_title":"Natural Gas + $149 \/ 5B Hooded Cover - Wings Up + $150 \/ No Thanks","options":["Natural Gas + $149","5B Hooded Cover - Wings Up + $150","No Thanks"],"price":462500,"weight":0,"compare_at_price":486900,"inventory_quantity":0,"inventory_management":null,"inventory_policy":"deny","barcode":null,"requires_selling_plan":false,"selling_plan_allocations":[]},{"id":42189784416488,"title":"Natural Gas + $149 \/ 5B Hooded Cover - Wings Up + $150 \/ V10 Rotisserie Kit + $270","option1":"Natural Gas + $149","option2":"5B Hooded Cover - Wings Up + $150","option3":"V10 Rotisserie Kit + $270","sku":"RCLASS BBQ-11","requires_shipping":true,"taxable":false,"featured_image":null,"available":true,"name":"Tucker R Class V10 BBQ - Natural Gas + $149 \/ 5B Hooded Cover - Wings Up + $150 \/ V10 Rotisserie Kit + $270","public_title":"Natural Gas + $149 \/ 5B Hooded Cover - Wings Up + $150 \/ V10 Rotisserie Kit + $270","options":["Natural Gas + $149","5B Hooded Cover - Wings Up + $150","V10 Rotisserie Kit + $270"],"price":488200,"weight":0,"compare_at_price":513900,"inventory_quantity":0,"inventory_management":null,"inventory_policy":"deny","barcode":null,"requires_selling_plan":false,"selling_plan_allocations":[]},{"id":42189784449256,"title":"Natural Gas + $149 \/ 5B Drop Shelf Cover - Wings Down + $120 \/ No Thanks","option1":"Natural Gas + $149","option2":"5B Drop Shelf Cover - Wings Down + $120","option3":"No Thanks","sku":"RCLASS BBQ-12","requires_shipping":true,"taxable":false,"featured_image":null,"available":true,"name":"Tucker R Class V10 BBQ - Natural Gas + $149 \/ 5B Drop Shelf Cover - Wings Down + $120 \/ No Thanks","public_title":"Natural Gas + $149 \/ 5B Drop Shelf Cover - Wings Down + $120 \/ No Thanks","options":["Natural Gas + $149","5B Drop Shelf Cover - Wings Down + $120","No Thanks"],"price":459700,"weight":0,"compare_at_price":483900,"inventory_quantity":0,"inventory_management":null,"inventory_policy":"deny","barcode":null,"requires_selling_plan":false,"selling_plan_allocations":[]},{"id":42189784482024,"title":"Natural Gas + $149 \/ 5B Drop Shelf Cover - Wings Down + $120 \/ V10 Rotisserie Kit + $270","option1":"Natural Gas + $149","option2":"5B Drop Shelf Cover - Wings Down + $120","option3":"V10 Rotisserie Kit + $270","sku":"RCLASS BBQ-13","requires_shipping":true,"taxable":false,"featured_image":null,"available":true,"name":"Tucker R Class V10 BBQ - Natural Gas + $149 \/ 5B Drop Shelf Cover - Wings Down + $120 \/ V10 Rotisserie Kit + $270","public_title":"Natural Gas + $149 \/ 5B Drop Shelf Cover - Wings Down + $120 \/ V10 Rotisserie Kit + $270","options":["Natural Gas + $149","5B Drop Shelf Cover - Wings Down + $120","V10 Rotisserie Kit + $270"],"price":485300,"weight":0,"compare_at_price":510900,"inventory_quantity":0,"inventory_management":null,"inventory_policy":"deny","barcode":null,"requires_selling_plan":false,"selling_plan_allocations":[]}],"images":["\/\/cdn.shopify.com\/s\/files\/1\/1861\/0291\/products\/V10RClassontrolley.jpg?v=1620270898","\/\/cdn.shopify.com\/s\/files\/1\/1861\/0291\/products\/V10RClassontrolleyangled_Right.jpg?v=1620270898","\/\/cdn.shopify.com\/s\/files\/1\/1861\/0291\/products\/V10RClassontrolleyangled_left.jpg?v=1620270898","\/\/cdn.shopify.com\/s\/files\/1\/1861\/0291\/products\/DSC_054422_dfa7d7d3-7250-4ac7-9004-4fa9a2be9b9d.jpg?v=1620270898","\/\/cdn.shopify.com\/s\/files\/1\/1861\/0291\/products\/RClassHoodfromside_6a574835-4435-4f94-9790-c0c51ccf7914.jpg?v=1620270898","\/\/cdn.shopify.com\/s\/files\/1\/1861\/0291\/products\/DSC_0534_afcf05a3-5e33-4a6e-b1ec-23493c808e2b__optimized.jpg?v=1608035675","\/\/cdn.shopify.com\/s\/files\/1\/1861\/0291\/products\/DSC_0539_ca3dc6df-39c7-4b70-b005-80c3c7ba5e0e__optimized.jpg?v=1608035675","\/\/cdn.shopify.com\/s\/files\/1\/1861\/0291\/products\/DSC_0538_b7b1d013-ddc0-4544-b321-417df0772b14__optimized.jpg?v=1608035675","\/\/cdn.shopify.com\/s\/files\/1\/1861\/0291\/products\/DSC_0541_92e4ef82-04b6-44fa-be02-bc7f39d8f90e__optimized.jpg?v=1608035675","\/\/cdn.shopify.com\/s\/files\/1\/1861\/0291\/products\/DSC_0542_1352b6d3-4e13-455e-969e-bf02aa295b0e__optimized.jpg?v=1608035675","\/\/cdn.shopify.com\/s\/files\/1\/1861\/0291\/products\/Roasting_Rack_and_Pan_set_for_Tucker_Stainless_Steel_BBQ_Built_In-RClass-GTR-GT_ea04af65-f558-4d19-b88b-74502750ceca__optimized.jpg?v=1608035675"],"featured_image":"\/\/cdn.shopify.com\/s\/files\/1\/1861\/0291\/products\/V10RClassontrolley.jpg?v=1620270898","options":["Gas Type","Add Heavy Duty Cover","Add Rotisserie Kit"],"media":[{"alt":null,"id":15207272349890,"position":1,"preview_image":{"aspect_ratio":1.778,"height":1350,"width":2400,"src":"https:\/\/cdn.shopify.com\/s\/files\/1\/1861\/0291\/products\/V10RClassontrolley.jpg?v=1620270898"},"aspect_ratio":1.778,"height":1350,"media_type":"image","src":"https:\/\/cdn.shopify.com\/s\/files\/1\/1861\/0291\/products\/V10RClassontrolley.jpg?v=1620270898","width":2400},{"alt":null,"id":15218507415746,"position":2,"preview_image":{"aspect_ratio":1.778,"height":1350,"width":2400,"src":"https:\/\/cdn.shopify.com\/s\/files\/1\/1861\/0291\/products\/V10RClassontrolleyangled_Right.jpg?v=1620270898"},"aspect_ratio":1.778,"height":1350,"media_type":"image","src":"https:\/\/cdn.shopify.com\/s\/files\/1\/1861\/0291\/products\/V10RClassontrolleyangled_Right.jpg?v=1620270898","width":2400},{"alt":null,"id":15218507382978,"position":3,"preview_image":{"aspect_ratio":1.778,"height":1350,"width":2400,"src":"https:\/\/cdn.shopify.com\/s\/files\/1\/1861\/0291\/products\/V10RClassontrolleyangled_left.jpg?v=1620270898"},"aspect_ratio":1.778,"height":1350,"media_type":"image","src":"https:\/\/cdn.shopify.com\/s\/files\/1\/1861\/0291\/products\/V10RClassontrolleyangled_left.jpg?v=1620270898","width":2400},{"alt":null,"id":15210123821250,"position":4,"preview_image":{"aspect_ratio":0.878,"height":3072,"width":2696,"src":"https:\/\/cdn.shopify.com\/s\/files\/1\/1861\/0291\/products\/DSC_054422_dfa7d7d3-7250-4ac7-9004-4fa9a2be9b9d.jpg?v=1620270898"},"aspect_ratio":0.878,"height":3072,"media_type":"image","src":"https:\/\/cdn.shopify.com\/s\/files\/1\/1861\/0291\/products\/DSC_054422_dfa7d7d3-7250-4ac7-9004-4fa9a2be9b9d.jpg?v=1620270898","width":2696},{"alt":null,"id":15210121756866,"position":5,"preview_image":{"aspect_ratio":0.631,"height":3516,"width":2220,"src":"https:\/\/cdn.shopify.com\/s\/files\/1\/1861\/0291\/products\/RClassHoodfromside_6a574835-4435-4f94-9790-c0c51ccf7914.jpg?v=1620270898"},"aspect_ratio":0.631,"height":3516,"media_type":"image","src":"https:\/\/cdn.shopify.com\/s\/files\/1\/1861\/0291\/products\/RClassHoodfromside_6a574835-4435-4f94-9790-c0c51ccf7914.jpg?v=1620270898","width":2220},{"alt":"Tucker R Class V10 BBQ, BBQ, Tucker Australia","id":1610845126736,"position":6,"preview_image":{"aspect_ratio":0.667,"height":4608,"width":3072,"src":"https:\/\/cdn.shopify.com\/s\/files\/1\/1861\/0291\/products\/DSC_0534_afcf05a3-5e33-4a6e-b1ec-23493c808e2b__optimized.jpg?v=1608035675"},"aspect_ratio":0.667,"height":4608,"media_type":"image","src":"https:\/\/cdn.shopify.com\/s\/files\/1\/1861\/0291\/products\/DSC_0534_afcf05a3-5e33-4a6e-b1ec-23493c808e2b__optimized.jpg?v=1608035675","width":3072},{"alt":"Tucker R Class V10 BBQ, BBQ, Tucker Australia","id":1610844995664,"position":7,"preview_image":{"aspect_ratio":0.667,"height":4608,"width":3072,"src":"https:\/\/cdn.shopify.com\/s\/files\/1\/1861\/0291\/products\/DSC_0539_ca3dc6df-39c7-4b70-b005-80c3c7ba5e0e__optimized.jpg?v=1608035675"},"aspect_ratio":0.667,"height":4608,"media_type":"image","src":"https:\/\/cdn.shopify.com\/s\/files\/1\/1861\/0291\/products\/DSC_0539_ca3dc6df-39c7-4b70-b005-80c3c7ba5e0e__optimized.jpg?v=1608035675","width":3072},{"alt":"Tucker R Class V10 BBQ, BBQ, Tucker Australia","id":1610845618256,"position":8,"preview_image":{"aspect_ratio":1.5,"height":3072,"width":4608,"src":"https:\/\/cdn.shopify.com\/s\/files\/1\/1861\/0291\/products\/DSC_0538_b7b1d013-ddc0-4544-b321-417df0772b14__optimized.jpg?v=1608035675"},"aspect_ratio":1.5,"height":3072,"media_type":"image","src":"https:\/\/cdn.shopify.com\/s\/files\/1\/1861\/0291\/products\/DSC_0538_b7b1d013-ddc0-4544-b321-417df0772b14__optimized.jpg?v=1608035675","width":4608},{"alt":"Tucker R Class V10 BBQ, BBQ, Tucker Australia","id":1610845683792,"position":9,"preview_image":{"aspect_ratio":1.5,"height":3072,"width":4608,"src":"https:\/\/cdn.shopify.com\/s\/files\/1\/1861\/0291\/products\/DSC_0541_92e4ef82-04b6-44fa-be02-bc7f39d8f90e__optimized.jpg?v=1608035675"},"aspect_ratio":1.5,"height":3072,"media_type":"image","src":"https:\/\/cdn.shopify.com\/s\/files\/1\/1861\/0291\/products\/DSC_0541_92e4ef82-04b6-44fa-be02-bc7f39d8f90e__optimized.jpg?v=1608035675","width":4608},{"alt":"Tucker R Class V10 BBQ, BBQ, Tucker Australia","id":1610845716560,"position":10,"preview_image":{"aspect_ratio":0.667,"height":4608,"width":3072,"src":"https:\/\/cdn.shopify.com\/s\/files\/1\/1861\/0291\/products\/DSC_0542_1352b6d3-4e13-455e-969e-bf02aa295b0e__optimized.jpg?v=1608035675"},"aspect_ratio":0.667,"height":4608,"media_type":"image","src":"https:\/\/cdn.shopify.com\/s\/files\/1\/1861\/0291\/products\/DSC_0542_1352b6d3-4e13-455e-969e-bf02aa295b0e__optimized.jpg?v=1608035675","width":3072},{"alt":"Tucker R Class V10 BBQ, BBQ, Tucker Australia","id":1638649692240,"position":11,"preview_image":{"aspect_ratio":1.357,"height":884,"width":1200,"src":"https:\/\/cdn.shopify.com\/s\/files\/1\/1861\/0291\/products\/Roasting_Rack_and_Pan_set_for_Tucker_Stainless_Steel_BBQ_Built_In-RClass-GTR-GT_ea04af65-f558-4d19-b88b-74502750ceca__optimized.jpg?v=1608035675"},"aspect_ratio":1.357,"height":884,"media_type":"image","src":"https:\/\/cdn.shopify.com\/s\/files\/1\/1861\/0291\/products\/Roasting_Rack_and_Pan_set_for_Tucker_Stainless_Steel_BBQ_Built_In-RClass-GTR-GT_ea04af65-f558-4d19-b88b-74502750ceca__optimized.jpg?v=1608035675","width":1200}],"requires_selling_plan":false,"selling_plan_groups":[],"content":"\u003ch4\u003eDescription\u003c\/h4\u003e\n\u003cdiv class=\"videoWrapper\"\u003e\n\u003c!-- Copy \u0026 Pasted from YouTube --\u003e \u003ciframe width=\"560\" height=\"315\" src=\"https:\/\/www.youtube.com\/embed\/OFTbAmeoTpg\" frameborder=\"0\" allow=\"autoplay; encrypted-media\" allowfullscreen=\"\"\u003e\u003c\/iframe\u003e\n\u003c\/div\u003e\n\u003cp\u003e \u003c\/p\u003e\n\u003cp\u003e\u003ca title=\"Need Help Assembling?\" href=\"https:\/\/tuckerbbq.com.au\/products\/bbq-assembly-sydney-metro?variant=12300577144912\" referrerpolicy=\"origin\" data-mce-href=\"https:\/\/tuckerbbq.com.au\/products\/bbq-assembly-sydney-metro?variant=12300577144912\"\u003e\u003cimg style=\"display: block; margin-left: auto; margin-right: auto;\" src=\"https:\/\/cdn.shopify.com\/s\/files\/1\/1861\/0291\/files\/need_assembling_480x480.jpg?v=1608243040\" alt=\"Need Help Assembling?\" data-mce-src=\"https:\/\/cdn.shopify.com\/s\/files\/1\/1861\/0291\/files\/need_assembling_480x480.jpg?v=1608243040\"\u003e\u003c\/a\u003e\u003c\/p\u003e\n\u003cp\u003eAt Tucker we believe our range of stainless steel BBQs are the best in Australia.\u003c\/p\u003e\n\u003cp\u003eOur new R Class model BBQs have been designed and developed with over 30 years of experience culminating into what we believe is the best BBQ in Austraila.\u003c\/p\u003e\n\u003cp\u003e\u003cspan\u003eThe R Class V10 on Cabinet is known as the 'V10' as it has 5 x R Class Dual Burners.The Cabinet includes self closing doors, the Tucker heavy duty wheels and commercial fixed wings. The shelf tops are easy lift off from the wings and double as serving trays.\u003c\/span\u003e\u003c\/p\u003e\n\u003cp\u003e\u003cspan\u003eThe R Class on Cabinet comes standard \u003c\/span\u003e\u003cspan\u003ewith stainless steel jacket (insulation blanket available as an add on) so you can install it safely into an outdoor kitchen made of various materials. We have fixed legs instead of wheels, and the final result is seamless integration into your own cabinetry if desired.\u003c\/span\u003e\u003c\/p\u003e\n\u003cp\u003eYou can choose between a slimline stainless steel easy-hinge lid, or a dynamic roasting hood with window.\u003c\/p\u003e\n\u003cp\u003e\u003cspan\u003eAll R Class models feature:\u003c\/span\u003e\u003c\/p\u003e\n\u003cp\u003e\u003cspan\u003e- Heavy Duty Firebox Design\u003cbr\u003e\u003c\/span\u003e\u003cspan\u003e- Exclusive H Pattern Stainless Steel Tube Burners\u003cbr\u003e\u003c\/span\u003e\u003cspan\u003e- Burners all with top vertical ports to reduce fatigue and improve heat\u003cbr\u003e\u003c\/span\u003e\u003cspan\u003e- Dual Stainless Steel Flare Guards\u003cbr\u003e- Upgraded Stainless Steel Knobs\u003cbr\u003e\u003c\/span\u003e\u003cspan\u003e- Individual Piezo Ignition on Each Valve\u003cbr\u003e\u003c\/span\u003e\u003cspan\u003e- Stainless Steel Manifold with a Lifetime Warranty\u003cbr\u003e\u003c\/span\u003e\u003cspan\u003e- Concealed Easy to Clean Cassette Grease Tray\u003cbr\u003e\u003c\/span\u003e\u003cspan\u003e- Tucker Stainless Plates \u0026amp; Grills\u003cbr\u003e\u003c\/span\u003e\u003cspan\u003e- LPG or Natural Gas\u003cbr\u003e- Cabinets with Self Closing Doors\u003cbr\u003e\u003c\/span\u003e\u003cspan\u003e- Optional Space Saving High Roasting Hood\u003cbr\u003e\u003c\/span\u003e\u003cspan\u003e- Optional 3 Ring Side Burner \u0026amp; Wok Roasting Hood\u003c\/span\u003e\u003cbr\u003e- Tucker Stainless Steel Roasting Pan and Rack included\u003c\/p\u003e\n\u003cp\u003e\u003cspan\u003eUnlike other manufacturers if you select Natural Gas, we will supply your unit already converted to Natural Gas ready for plug and play (Most just send a Natural Gas Kit which requires an authorised person to change over the jets).\u003c\/span\u003e\u003c\/p\u003e\n\u003ch4\u003eSpecifications:\u003cbr\u003e\u003cbr\u003e\n\u003c\/h4\u003e\n\u003cp\u003e\u003cstrong\u003eData Sheet\u003c\/strong\u003e:\u003c\/p\u003e\n\u003cp\u003e\u003ca href=\"https:\/\/cdn.shopify.com\/s\/files\/1\/1861\/0291\/files\/R_Class_V10_Data_Sheet_V02.08.2021.pdf?v=1627908364\" title=\"R Class V10 Data Sheet.pdf\" target=\"_blank\"\u003e\u003cspan style=\"text-decoration: underline;\"\u003eR Class V10 Data Sheet.pdf\u003c\/span\u003e\u003c\/a\u003e\u003c\/p\u003e\n\u003cp\u003e\u003cspan style=\"text-decoration: underline;\"\u003e\u003cbr\u003e\u003c\/span\u003e\u003c\/p\u003e\n\u003cp data-mce-fragment=\"1\"\u003e\u003cstrong data-mce-fragment=\"1\"\u003eDimensions\u003c\/strong\u003e:\u003c\/p\u003e\n\u003cp data-mce-fragment=\"1\"\u003e\u003cspan data-mce-fragment=\"1\"\u003e\u003ca data-mce-fragment=\"1\" href=\"https:\/\/cdn.shopify.com\/s\/files\/1\/1861\/0291\/files\/R_Class_V10_BBQ_on_cabinet_trolley_dimensions.pdf?467696688974632207\" referrerpolicy=\"origin\" target=\"blank\" data-mce-href=\"https:\/\/cdn.shopify.com\/s\/files\/1\/1861\/0291\/files\/R_Class_V10_BBQ_on_cabinet_trolley_dimensions.pdf?467696688974632207\"\u003eR Class V10 Dimensions.pdf\u003c\/a\u003e\u003c\/span\u003e\u003c\/p\u003e\n\u003cp\u003e\u003cspan style=\"text-decoration: underline;\"\u003e\u003cbr\u003e\u003c\/span\u003e\u003c\/p\u003e\n\u003ch4\u003e\u003cstrong\u003eManuals\u003c\/strong\u003e\u003c\/h4\u003e\n\u003cp\u003e\u003cb\u003eManuals\u003c\/b\u003e:\u003c\/p\u003e\n\u003cp\u003e\u003ca href=\"https:\/\/cdn.shopify.com\/s\/files\/1\/1861\/0291\/files\/R_Class_Cabinet_Shelfs_Manual_2019_V05.12.19.pdf?4187\" referrerpolicy=\"origin\"\u003e\u003cspan style=\"text-decoration: underline;\"\u003eR Class Side Shelves Assembly Instructions.pdf\u003c\/span\u003e\u003c\/a\u003e\u003c\/p\u003e\n\u003cp\u003e\u003ca href=\"https:\/\/cdn.shopify.com\/s\/files\/1\/1861\/0291\/files\/R_Class_and_GTR_Cabinet_Manual_V27.11.19_s.pdf?4188\" referrerpolicy=\"origin\"\u003e\u003cspan style=\"text-decoration: underline;\"\u003eR Class Cabinet Trolley Instructions.pdf\u003c\/span\u003e\u003c\/a\u003e\u003c\/p\u003e\n\u003cp\u003e\u003ca href=\"https:\/\/cdn.shopify.com\/s\/files\/1\/1861\/0291\/files\/R_Class_Roasting_Hood_Instructions_V03.01.20.pdf?4279\" title=\"R Class BBQ Roasting Hood instructions manual\" referrerpolicy=\"origin\"\u003e\u003cspan style=\"text-decoration: underline;\"\u003eR Class Roasting Hood Instructions.pdf\u003c\/span\u003e\u003c\/a\u003e\u003c\/p\u003e"}
Tucker R Class V10 BBQ
The Tucker R Class are our best BBQ range we've ever made.

They are available in various sizes and share these amazing features: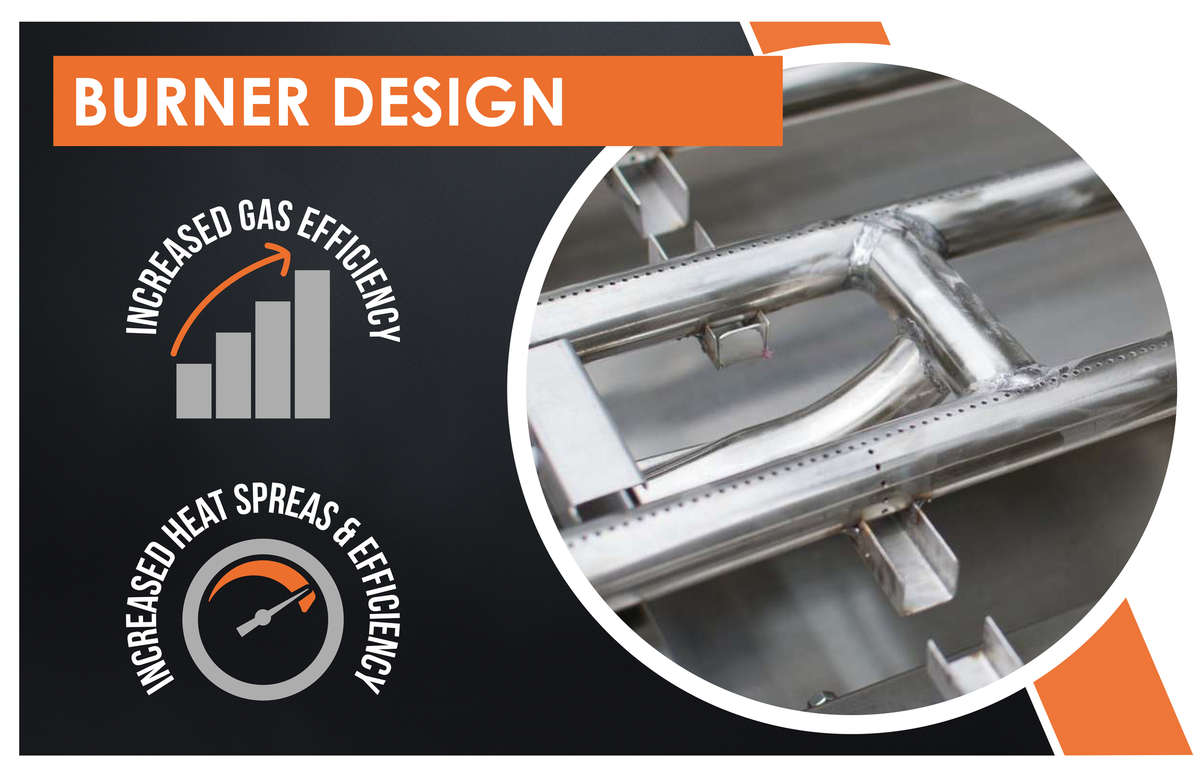 Dual H Pattern R Class Burners
The heart of the R Class BBQ is our new exclusive H pattern dual stainless steel burner. This 17 MJ/h burner has been developed specifically for the R Class. The burner ports on the H burners are positioned vertically on top of the burner tubes increasing efficiencies. Compared to our previous flagship range, the S Class, we increased heat output significantly using less gas and reducing emissions by over 20%. The H pattern design spreads heat more evenly across the entire cooking surface virtually eliminating cold spots. The top port design also helps in reducing heat fatigue on the burners increasing their life span.

By contrast most BBQs use burner technology designed decades ago - inefficiently thirsty on the gas, have poor heat distribution and a limited life span.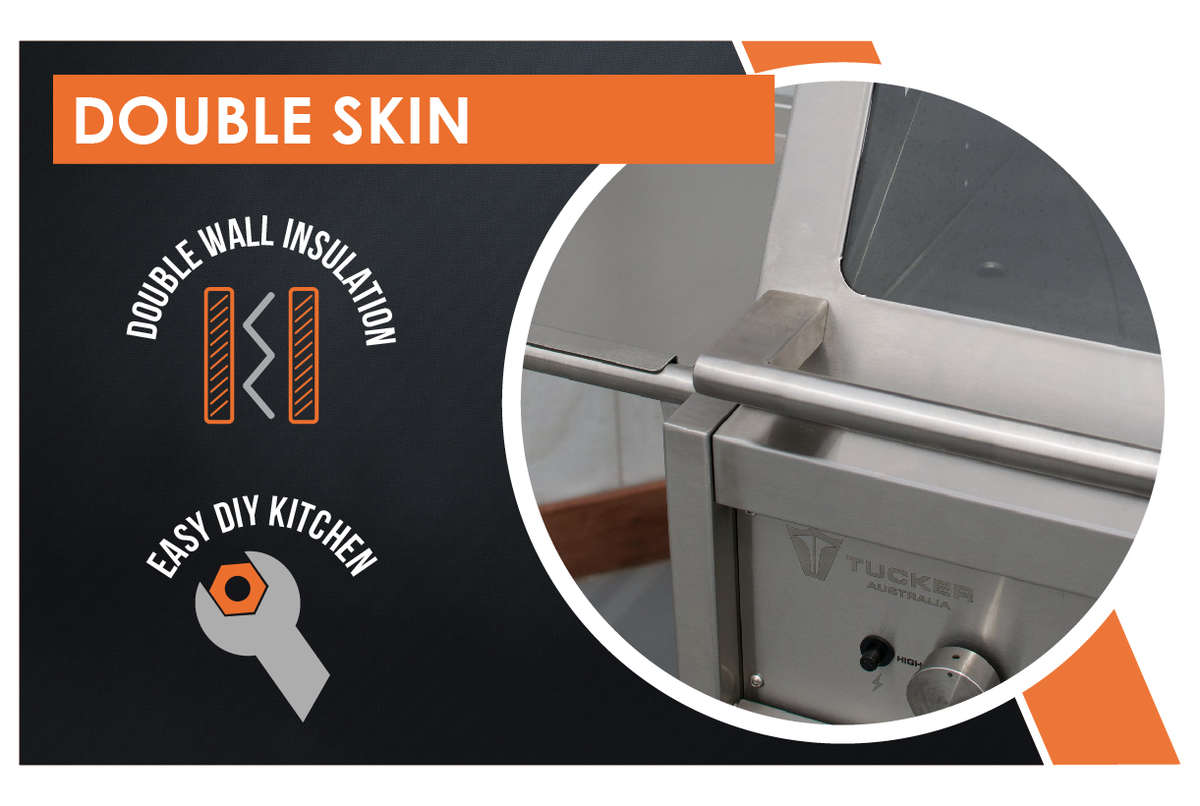 The R Class comes standard with a double skinned firebox. Our built in models includes our heat insulation blanket so you can build the unit into all kinds of materials not just non combustibles like brick and granite that the naked GTR & Horizon BBQ are restricted to. You can have peace of mind and build straight into your kitchen cabinetry without worry.

Our R Class BBQs on Cabinets can be retro fitted into an outdoor kitchen simply by adding the insulation blanket (purchased separately).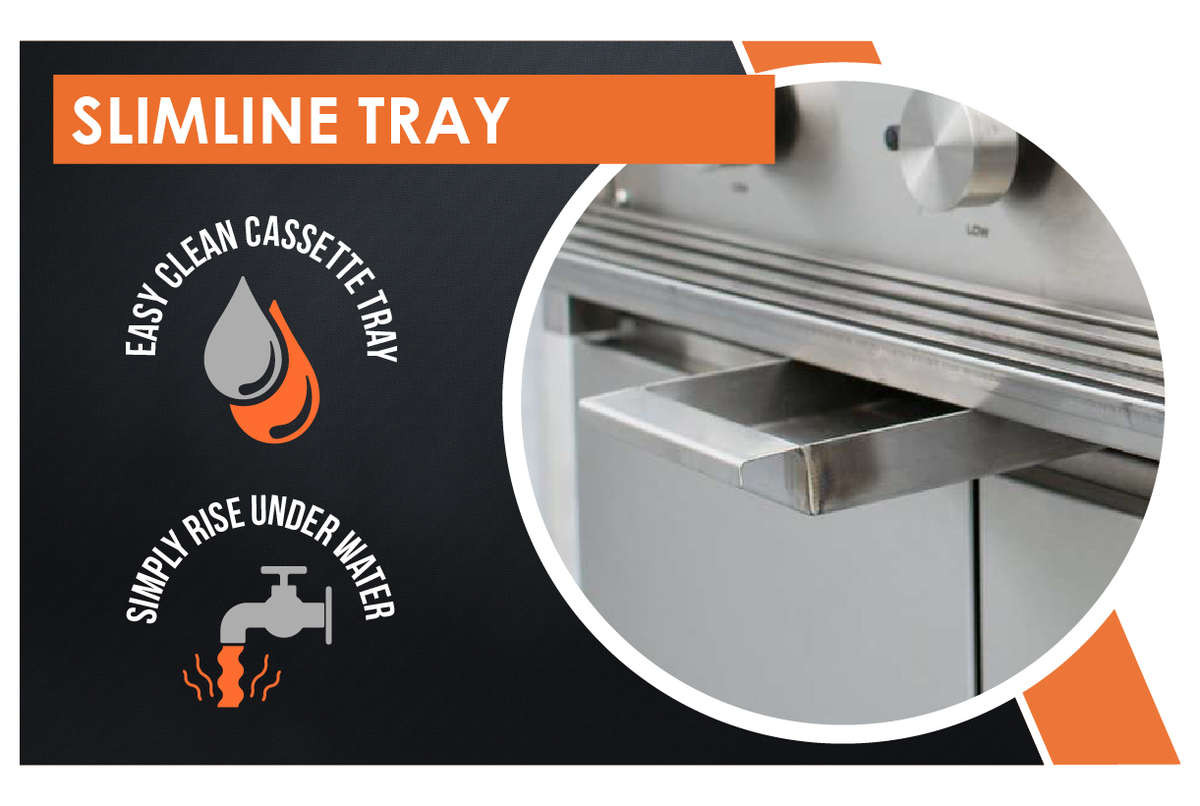 Easy to Clean Cassette Grease Tray
Fat collection has never been easier. The concealed cassette tray is hidden under our R Class premium fascia. Simply lift fascia and slide out the slimline tray to wash. The firebox gradient allows all excess fat to simply collect in the tray submerged in the centre of the unit.

The tray doesn't require lining with sand or foil making it a breeze to clean under water or in the dishwasher.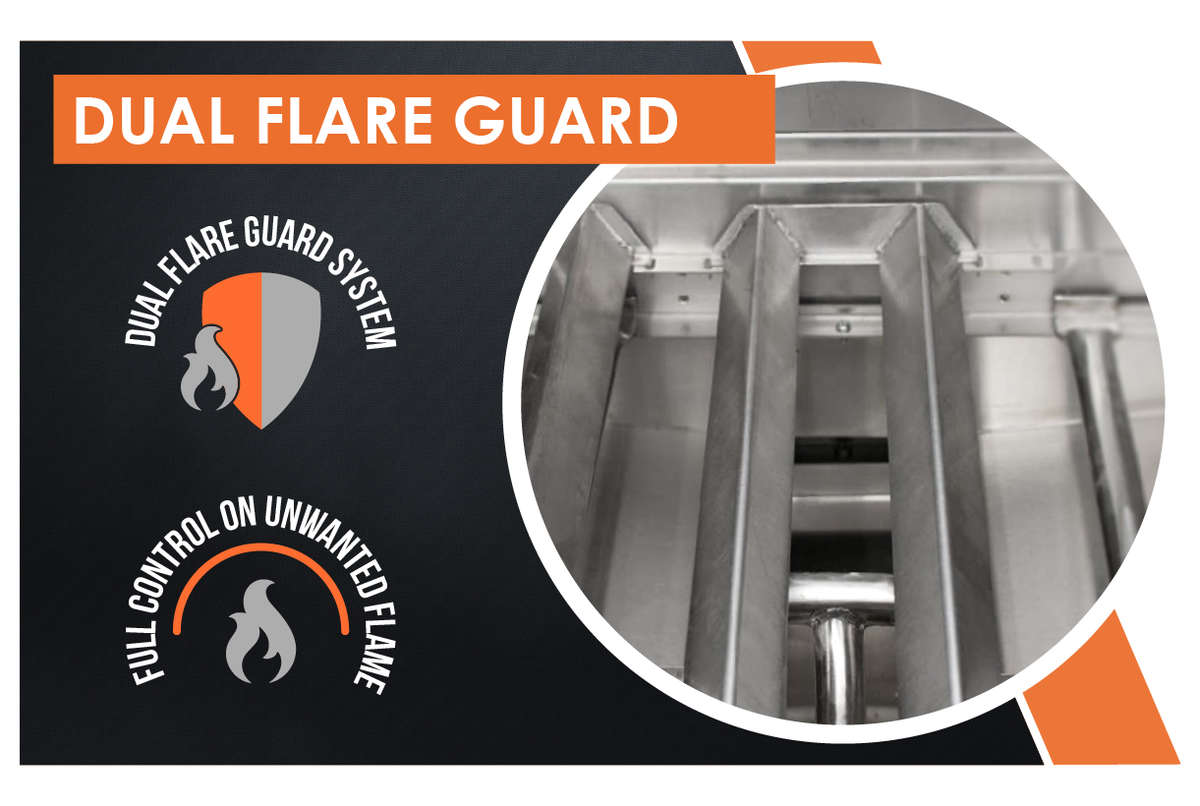 The dual Flare Guards are positioned directly above each burner beneath the open grill section of the BBQ. This system protects the burners from unwanted spills as well as gives you full control of unwanted flare caused by excess oils coming from your meat or marinade. Heat is spread more efficiently across the grill section of your BBQ.


During cooking if unwanted flare should occur, simply turn the burner down beneath the flare and you will see the flame reduced in seconds.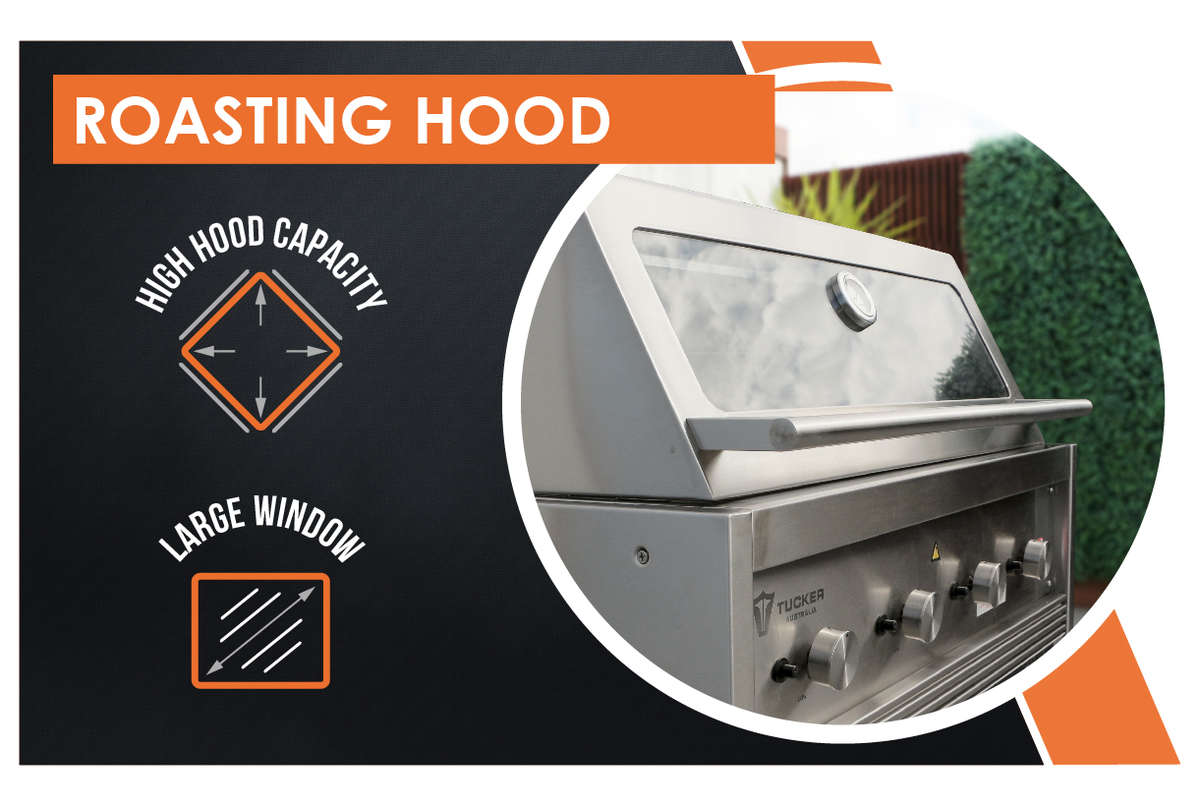 The R Class Window Roasting hood is available both for the R Class BBQ and for the 3 Ring Wok Burner.

Hoods feature self rolling design so no extra clearance is needed behind the unit. The wide angle viewing window lets you cook like a pro.

The elevated back cooking rack gives you more capacity to cook. The roasting hood for BBQ comes with our Tucker roast pan and rack for superior roasts. And, of course, all R Class hoods are compatible with our Tucker Rotisserie Kits.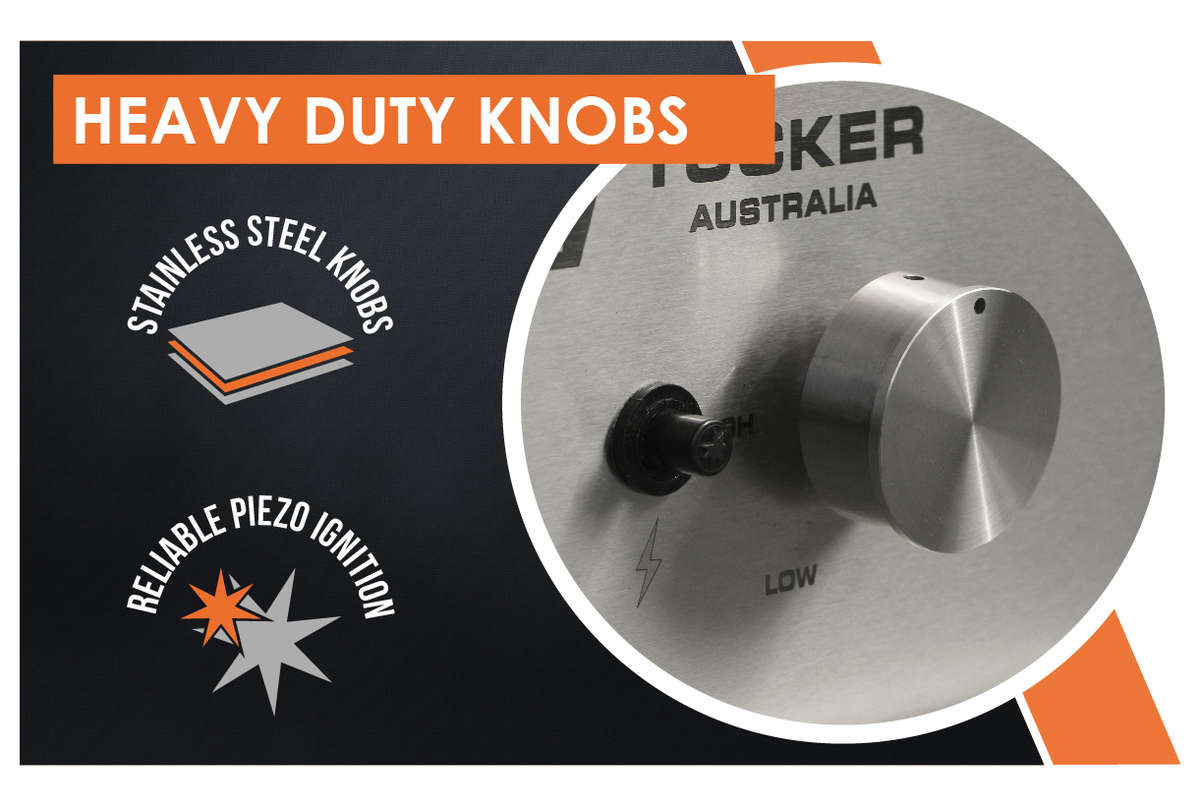 Stainless Steel Knobs & Reliable Ignition
Our GT & GTR range use Aluminium Cast knobs which are low maintenance and don't corrode. They can, however, oxide with salt water exposure if they are not wiped down occasionally with water. In our R Class we have upgraded our knob system to 304 Stainless Steel for an even stronger build and strong gas valve control.

The Tucker piezo ignition system is found on each burner and requires no batteries or electricity making them highly reliable.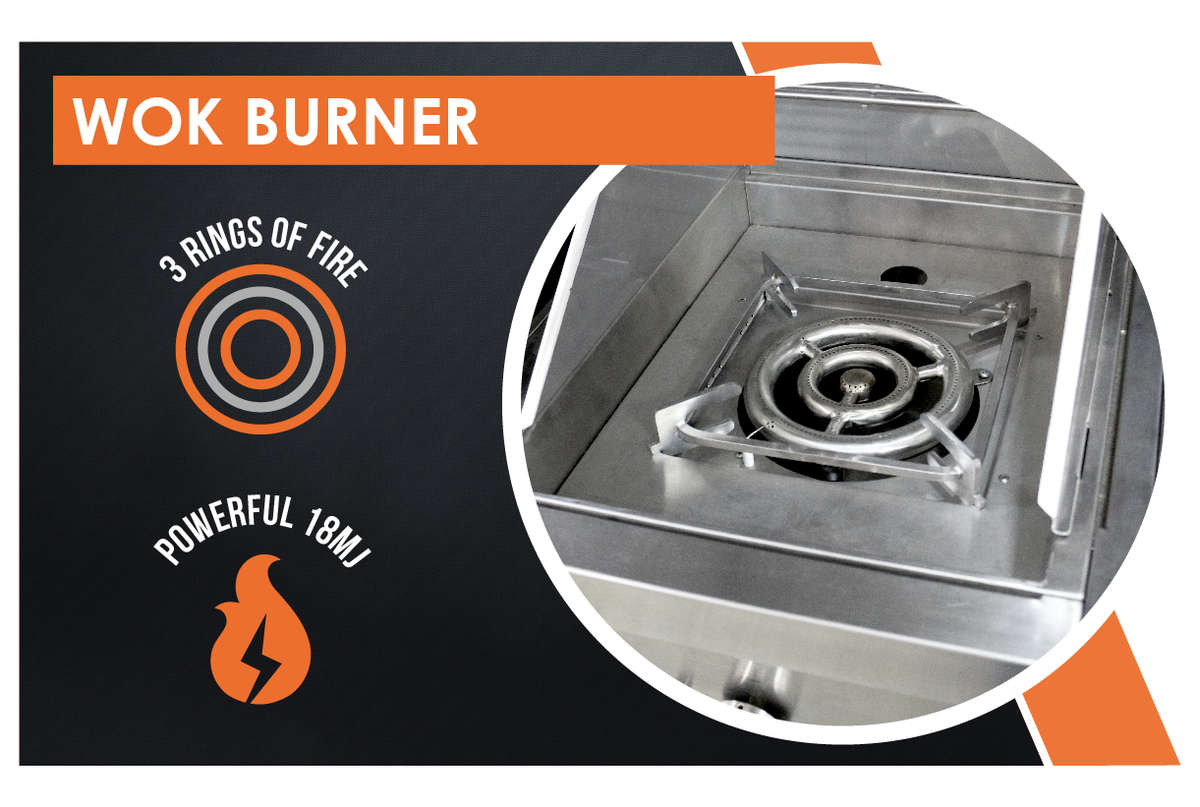 High Power 3 Ring Wok Burner
The optional 3 ring wok burner provides enough heat to roast (with optional wok hood) and has an incredible 18 megajoules of heat for pan frying, stir frying and wok cooking.

Smart easy lift hinged lid included, optional roasting window hood available. Now you can cook on your BBQ and roast over your side burner at the same time!
The R Class will be the best BBQ you've ever owned.

We ship Australia wide and offer assembly aross the Sydney metro area.

Talk to our BBQ experts today - 1300 300 227.