{"id":3574215573584,"title":"Tucker 5 Burner GTR BBQ Built In with Hinged Lid","handle":"tucker-5-burner-gtr-bbq-built-in-with-hinged-lid","description":"\u003ch4\u003e\u003cstrong\u003eDescription\u003c\/strong\u003e\u003c\/h4\u003e\n\u003cdiv class=\"videoWrapper\"\u003e\u003ciframe width=\"560\" height=\"315\" src=\"https:\/\/www.youtube.com\/embed\/O7poAsh2cvA\" frameborder=\"0\" gesture=\"media\" allow=\"encrypted-media\" allowfullscreen=\"\"\u003e\u003c\/iframe\u003e\u003c\/div\u003e\n\u003cp\u003e \u003c\/p\u003e\n\u003cp\u003e\u003ca title=\"Need Help Assembling?\" href=\"https:\/\/tuckerbbq.com.au\/products\/bbq-assembly-sydney-metro?variant=12300577144912\" referrerpolicy=\"origin\" data-mce-href=\"https:\/\/tuckerbbq.com.au\/products\/bbq-assembly-sydney-metro?variant=12300577144912\"\u003e\u003cimg style=\"display: block; margin-left: auto; margin-right: auto;\" src=\"https:\/\/cdn.shopify.com\/s\/files\/1\/1861\/0291\/files\/need_assembling_480x480.jpg?v=1608243040\" alt=\"Need Help Assembling?\" data-mce-selected=\"1\" data-mce-src=\"https:\/\/cdn.shopify.com\/s\/files\/1\/1861\/0291\/files\/need_assembling_480x480.jpg?v=1608243040\"\u003e\u003c\/a\u003e\u003c\/p\u003e\n\u003cp\u003eThe new GTR Series is our hottest, even heat BBQ to date. \u003c\/p\u003e\n\u003cp\u003eAll GTR BBQs have an extra burner added to the design, to create that incredible even heat that these units are already getting famous for.\u003c\/p\u003e\n\u003cp\u003e- 5 full length burners in the body of what traditionally is a 4 burner BBQ - hot!!\u003cbr\u003e- Incredible heat control and cook times\u003cbr\u003e- Top of the line 304 grade stainless steel\u003cbr\u003e- Strong, custom designed and made stainless grill and 5mm plate.\u003cbr\u003e- Hinged flat stainless steel lid\u003cbr\u003e- Insulation Jacket available for building into combustibles\u003cbr\u003e- Environmental and easy clean slimline drip tray, no sand or fat absorb required.\u003cbr\u003e- Robust construction, hand-welded stainless steel, polished every corner.\u003cbr\u003e- Lifetime manifold warranty\u003cbr\u003e- 10 year structural warranty on firebox\u003cbr\u003e- Readily available and reasonably priced spare parts. \u003cbr\u003e- Tucker Stainless Steel Roasting Pan and Rack included\u003c\/p\u003e\n\u003cp\u003e\u003cspan\u003eUnlike other manufacturers if you select Natural Gas, we will supply your unit already converted to Natural Gas ready for plug and play (Most just send a Natural Gas Kit which requires an authorised person to change over the jets).\u003c\/span\u003e\u003c\/p\u003e\n\u003cp\u003eAre you ready to impress with the best BBQ you've ever owned?\u003c\/p\u003e\n\u003ch4\u003eSpecifications\u003c\/h4\u003e\n\u003cp\u003e\u003cstrong\u003eData Sheet:\u003c\/strong\u003e\u003c\/p\u003e\n\u003cp\u003e\u003ca href=\"https:\/\/cdn.shopify.com\/s\/files\/1\/1861\/0291\/files\/GTR_5_Data_Sheet_built-in.pdf?v=1627901214\" referrerpolicy=\"origin\" title=\"GTR 5 Burner Built In Data Sheet.pdf\" target=\"_blank\"\u003e\u003cspan style=\"text-decoration: underline;\"\u003eGTR 5 Burner Built In Data Sheet.pdf\u003c\/span\u003e\u003c\/a\u003e\u003c\/p\u003e\n\u003cp\u003e\u003cstrong\u003eDimensions:\u003c\/strong\u003e\u003c\/p\u003e\n\u003cp\u003e\u003ca href=\"https:\/\/cdn.shopify.com\/s\/files\/1\/1861\/0291\/files\/GTR_Built-in_Dimensions_V15.01.2021_WB.pdf?v=1611049062\" referrerpolicy=\"origin\" title=\"GTR 5 Burner Built In Dimensions.pdf\" target=\"_blank\"\u003e\u003cspan style=\"text-decoration: underline;\"\u003eGTR 5 Burner Built In Dimensions.pdf\u003c\/span\u003e\u003c\/a\u003e\u003c\/p\u003e\n\u003cp\u003eIf you purchase the GTR without insulation jacket you must install the appliance in non combustible materials only, such as brickwork or granite. Please note that Caesarstone can be damaged by sudden and rapid surface temperature changes and would not be an appropriate benchtop without an insulation jacket.\u003c\/p\u003e\n\u003cp\u003eThe GTR has lips on each side to hang off the brickwork.\u003c\/p\u003e\n\u003cp\u003eIf you purchase the additional insulation jacket you can install the GTR BBQ into any outdoor kitchen cabinetry including MDF, Caesar stone, timber etc. The BBQ will not hang, the jacket will simply sit in your cutout and in turn the BBQ sits in the jacket.\u003c\/p\u003e\n\u003ch4\u003eManuals\u003c\/h4\u003e\n\u003cp\u003e\u003cstrong\u003eManuals:\u003c\/strong\u003e\u003c\/p\u003e\n\u003cp\u003e\u003ca href=\"https:\/\/cdn.shopify.com\/s\/files\/1\/1861\/0291\/files\/GTR_Built-In_BBQ_Manual_Website_V29.01.2021.pdf?v=1611920677\" referrerpolicy=\"origin\" title=\"GTR Built-in Instructions\" target=\"_blank\"\u003e\u003cspan style=\"text-decoration: underline;\"\u003eGTR BBQ Built In Assembly and Operating Instructions.pdf\u003c\/span\u003e\u003c\/a\u003e\u003c\/p\u003e\n\u003cp\u003e\u003ca href=\"https:\/\/cdn.shopify.com\/s\/files\/1\/1861\/0291\/files\/GTR_R_Class_Insulation_Jacket_Assembly_Instructions_comb_V24.06.2022_Web.pdf?v=1656065110\" target=\"_blank\" rel=\"noopener noreferrer\"\u003e\u003cspan style=\"text-decoration: underline;\"\u003eGTR Insulation Jacket Assembly and Installation Instructions.pdf\u003c\/span\u003e \u003c\/a\u003e\u003c\/p\u003e","published_at":"2019-05-10T09:34:18+10:00","created_at":"2019-05-10T09:34:18+10:00","vendor":"Tucker Australia","type":"BBQ","tags":["5 Burners","Bold Discount","Built In","Flat Lid","Gas","Natural Gas","Tucker","Tucker BBQ"],"price":189100,"price_min":189100,"price_max":257800,"available":true,"price_varies":true,"compare_at_price":199100,"compare_at_price_min":199100,"compare_at_price_max":271400,"compare_at_price_varies":true,"variants":[{"id":42177275068648,"title":"No Jacket (Non-combustible cabinetry only - Granite - Brickwork etc) \/ LPG Gas + $36","option1":"No Jacket (Non-combustible cabinetry only - Granite - Brickwork etc)","option2":"LPG Gas + $36","option3":null,"sku":"GTR BBQ-1","requires_shipping":true,"taxable":true,"featured_image":{"id":13786486571088,"product_id":3574215573584,"position":1,"created_at":"2019-12-12T14:43:08+11:00","updated_at":"2020-01-24T12:08:48+11:00","alt":"Tucker 5 Burner GTR BBQ Built In with Hinged Lid, BBQ, Tucker Australia","width":2400,"height":1350,"src":"https:\/\/cdn.shopify.com\/s\/files\/1\/1861\/0291\/products\/GTR_5_Burner_Built-in_with_flat_lid_New.jpg?v=1579828128","variant_ids":[42077320708328,42177275068648]},"available":true,"name":"Tucker 5 Burner GTR BBQ Built In with Hinged Lid - No Jacket (Non-combustible cabinetry only - Granite - Brickwork etc) \/ LPG Gas + $36","public_title":"No Jacket (Non-combustible cabinetry only - Granite - Brickwork etc) \/ LPG Gas + $36","options":["No Jacket (Non-combustible cabinetry only - Granite - Brickwork etc)","LPG Gas + $36"],"price":189100,"weight":0,"compare_at_price":199100,"inventory_quantity":0,"inventory_management":null,"inventory_policy":"deny","barcode":null,"featured_media":{"alt":"Tucker 5 Burner GTR BBQ Built In with Hinged Lid, BBQ, Tucker Australia","id":5959443349584,"position":1,"preview_image":{"aspect_ratio":1.778,"height":1350,"width":2400,"src":"https:\/\/cdn.shopify.com\/s\/files\/1\/1861\/0291\/products\/GTR_5_Burner_Built-in_with_flat_lid_New.jpg?v=1579828128"}},"requires_selling_plan":false,"selling_plan_allocations":[]},{"id":42077320708328,"title":"No Jacket (Non-combustible cabinetry only - Granite - Brickwork etc) \/ Natural Gas + $149","option1":"No Jacket (Non-combustible cabinetry only - Granite - Brickwork etc)","option2":"Natural Gas + $149","option3":null,"sku":"GTR BBQ-2","requires_shipping":true,"taxable":true,"featured_image":{"id":13786486571088,"product_id":3574215573584,"position":1,"created_at":"2019-12-12T14:43:08+11:00","updated_at":"2020-01-24T12:08:48+11:00","alt":"Tucker 5 Burner GTR BBQ Built In with Hinged Lid, BBQ, Tucker Australia","width":2400,"height":1350,"src":"https:\/\/cdn.shopify.com\/s\/files\/1\/1861\/0291\/products\/GTR_5_Burner_Built-in_with_flat_lid_New.jpg?v=1579828128","variant_ids":[42077320708328,42177275068648]},"available":true,"name":"Tucker 5 Burner GTR BBQ Built In with Hinged Lid - No Jacket (Non-combustible cabinetry only - Granite - Brickwork etc) \/ Natural Gas + $149","public_title":"No Jacket (Non-combustible cabinetry only - Granite - Brickwork etc) \/ Natural Gas + $149","options":["No Jacket (Non-combustible cabinetry only - Granite - Brickwork etc)","Natural Gas + $149"],"price":199800,"weight":0,"compare_at_price":210400,"inventory_quantity":0,"inventory_management":null,"inventory_policy":"deny","barcode":null,"featured_media":{"alt":"Tucker 5 Burner GTR BBQ Built In with Hinged Lid, BBQ, Tucker Australia","id":5959443349584,"position":1,"preview_image":{"aspect_ratio":1.778,"height":1350,"width":2400,"src":"https:\/\/cdn.shopify.com\/s\/files\/1\/1861\/0291\/products\/GTR_5_Burner_Built-in_with_flat_lid_New.jpg?v=1579828128"}},"requires_selling_plan":false,"selling_plan_allocations":[]},{"id":42177275199720,"title":"Insulation Jacket (All surfaces and cabinetry) + $800 \/ LPG Gas + $36","option1":"Insulation Jacket (All surfaces and cabinetry) + $800","option2":"LPG Gas + $36","option3":null,"sku":"GTR BBQ-3","requires_shipping":true,"taxable":true,"featured_image":{"id":13786486898768,"product_id":3574215573584,"position":2,"created_at":"2019-12-12T14:43:13+11:00","updated_at":"2020-01-24T12:08:48+11:00","alt":"Tucker 5 Burner GTR BBQ Built In with Hinged Lid, BBQ, Tucker Australia","width":2400,"height":1350,"src":"https:\/\/cdn.shopify.com\/s\/files\/1\/1861\/0291\/products\/GTR_5_Burner_Built-in_with_with_insulation_Jacket_with_Flat_Lid_New.jpg?v=1579828128","variant_ids":[42177275199720,42183490175208]},"available":true,"name":"Tucker 5 Burner GTR BBQ Built In with Hinged Lid - Insulation Jacket (All surfaces and cabinetry) + $800 \/ LPG Gas + $36","public_title":"Insulation Jacket (All surfaces and cabinetry) + $800 \/ LPG Gas + $36","options":["Insulation Jacket (All surfaces and cabinetry) + $800","LPG Gas + $36"],"price":247000,"weight":0,"compare_at_price":260100,"inventory_quantity":0,"inventory_management":null,"inventory_policy":"deny","barcode":null,"featured_media":{"alt":"Tucker 5 Burner GTR BBQ Built In with Hinged Lid, BBQ, Tucker Australia","id":5959443677264,"position":2,"preview_image":{"aspect_ratio":1.778,"height":1350,"width":2400,"src":"https:\/\/cdn.shopify.com\/s\/files\/1\/1861\/0291\/products\/GTR_5_Burner_Built-in_with_with_insulation_Jacket_with_Flat_Lid_New.jpg?v=1579828128"}},"requires_selling_plan":false,"selling_plan_allocations":[]},{"id":42183490175208,"title":"Insulation Jacket (All surfaces and cabinetry) + $800 \/ Natural Gas + $149","option1":"Insulation Jacket (All surfaces and cabinetry) + $800","option2":"Natural Gas + $149","option3":null,"sku":"GTR BBQ-4","requires_shipping":true,"taxable":true,"featured_image":{"id":13786486898768,"product_id":3574215573584,"position":2,"created_at":"2019-12-12T14:43:13+11:00","updated_at":"2020-01-24T12:08:48+11:00","alt":"Tucker 5 Burner GTR BBQ Built In with Hinged Lid, BBQ, Tucker Australia","width":2400,"height":1350,"src":"https:\/\/cdn.shopify.com\/s\/files\/1\/1861\/0291\/products\/GTR_5_Burner_Built-in_with_with_insulation_Jacket_with_Flat_Lid_New.jpg?v=1579828128","variant_ids":[42177275199720,42183490175208]},"available":true,"name":"Tucker 5 Burner GTR BBQ Built In with Hinged Lid - Insulation Jacket (All surfaces and cabinetry) + $800 \/ Natural Gas + $149","public_title":"Insulation Jacket (All surfaces and cabinetry) + $800 \/ Natural Gas + $149","options":["Insulation Jacket (All surfaces and cabinetry) + $800","Natural Gas + $149"],"price":257800,"weight":0,"compare_at_price":271400,"inventory_quantity":0,"inventory_management":null,"inventory_policy":"deny","barcode":null,"featured_media":{"alt":"Tucker 5 Burner GTR BBQ Built In with Hinged Lid, BBQ, Tucker Australia","id":5959443677264,"position":2,"preview_image":{"aspect_ratio":1.778,"height":1350,"width":2400,"src":"https:\/\/cdn.shopify.com\/s\/files\/1\/1861\/0291\/products\/GTR_5_Burner_Built-in_with_with_insulation_Jacket_with_Flat_Lid_New.jpg?v=1579828128"}},"requires_selling_plan":false,"selling_plan_allocations":[]}],"images":["\/\/cdn.shopify.com\/s\/files\/1\/1861\/0291\/products\/GTR_5_Burner_Built-in_with_flat_lid_New.jpg?v=1579828128","\/\/cdn.shopify.com\/s\/files\/1\/1861\/0291\/products\/GTR_5_Burner_Built-in_with_with_insulation_Jacket_with_Flat_Lid_New.jpg?v=1579828128","\/\/cdn.shopify.com\/s\/files\/1\/1861\/0291\/products\/0__optimized_fce26483-a00a-4e7c-a07c-f431cd052933.jpg?v=1579828128","\/\/cdn.shopify.com\/s\/files\/1\/1861\/0291\/products\/gtrsq_1400x__optimized_a07e1a13-d76d-4043-b382-5c32c4692755.jpg?v=1579828128","\/\/cdn.shopify.com\/s\/files\/1\/1861\/0291\/products\/1__optimized_9ad59684-2176-4972-a07c-5da7dad196b2.jpg?v=1579828128","\/\/cdn.shopify.com\/s\/files\/1\/1861\/0291\/products\/6__optimized_ad94b59f-af06-44d7-b3c2-e516560ae19c.jpg?v=1579828128","\/\/cdn.shopify.com\/s\/files\/1\/1861\/0291\/products\/2__optimized_3629397b-e458-4883-beb6-befcda095fa3.jpg?v=1579828128","\/\/cdn.shopify.com\/s\/files\/1\/1861\/0291\/products\/3_1d9adac7-da12-47bb-baf7-28dd516a9ccc.jpg?v=1579828128","\/\/cdn.shopify.com\/s\/files\/1\/1861\/0291\/products\/5__optimized_593db1df-6643-4f8b-85d8-5ab9e548ade5.jpg?v=1579828128","\/\/cdn.shopify.com\/s\/files\/1\/1861\/0291\/products\/Roasting_Rack_and_Pan_set_for_Tucker_Stainless_Steel_BBQ_Built_In-RClass-GTR-GT__optimized_5c4f499c-e56c-41ac-973a-1ef7b8acaede.jpg?v=1579828128"],"featured_image":"\/\/cdn.shopify.com\/s\/files\/1\/1861\/0291\/products\/GTR_5_Burner_Built-in_with_flat_lid_New.jpg?v=1579828128","options":["Insulation Jacket","Gas Type"],"media":[{"alt":"Tucker 5 Burner GTR BBQ Built In with Hinged Lid, BBQ, Tucker Australia","id":5959443349584,"position":1,"preview_image":{"aspect_ratio":1.778,"height":1350,"width":2400,"src":"https:\/\/cdn.shopify.com\/s\/files\/1\/1861\/0291\/products\/GTR_5_Burner_Built-in_with_flat_lid_New.jpg?v=1579828128"},"aspect_ratio":1.778,"height":1350,"media_type":"image","src":"https:\/\/cdn.shopify.com\/s\/files\/1\/1861\/0291\/products\/GTR_5_Burner_Built-in_with_flat_lid_New.jpg?v=1579828128","width":2400},{"alt":"Tucker 5 Burner GTR BBQ Built In with Hinged Lid, BBQ, Tucker Australia","id":5959443677264,"position":2,"preview_image":{"aspect_ratio":1.778,"height":1350,"width":2400,"src":"https:\/\/cdn.shopify.com\/s\/files\/1\/1861\/0291\/products\/GTR_5_Burner_Built-in_with_with_insulation_Jacket_with_Flat_Lid_New.jpg?v=1579828128"},"aspect_ratio":1.778,"height":1350,"media_type":"image","src":"https:\/\/cdn.shopify.com\/s\/files\/1\/1861\/0291\/products\/GTR_5_Burner_Built-in_with_with_insulation_Jacket_with_Flat_Lid_New.jpg?v=1579828128","width":2400},{"alt":"Tucker 5 Burner GTR BBQ Built In with Hinged Lid, BBQ, Tucker Australia","id":2181129601104,"position":3,"preview_image":{"aspect_ratio":1.036,"height":1351,"width":1400,"src":"https:\/\/cdn.shopify.com\/s\/files\/1\/1861\/0291\/products\/0__optimized_fce26483-a00a-4e7c-a07c-f431cd052933.jpg?v=1579828128"},"aspect_ratio":1.036,"height":1351,"media_type":"image","src":"https:\/\/cdn.shopify.com\/s\/files\/1\/1861\/0291\/products\/0__optimized_fce26483-a00a-4e7c-a07c-f431cd052933.jpg?v=1579828128","width":1400},{"alt":"Tucker 5 Burner GTR BBQ Built In with Hinged Lid, BBQ, Tucker Australia","id":2181129863248,"position":4,"preview_image":{"aspect_ratio":1.08,"height":1296,"width":1400,"src":"https:\/\/cdn.shopify.com\/s\/files\/1\/1861\/0291\/products\/gtrsq_1400x__optimized_a07e1a13-d76d-4043-b382-5c32c4692755.jpg?v=1579828128"},"aspect_ratio":1.08,"height":1296,"media_type":"image","src":"https:\/\/cdn.shopify.com\/s\/files\/1\/1861\/0291\/products\/gtrsq_1400x__optimized_a07e1a13-d76d-4043-b382-5c32c4692755.jpg?v=1579828128","width":1400},{"alt":"Tucker 5 Burner GTR BBQ Built In with Hinged Lid, BBQ, Tucker Australia","id":2181130387536,"position":5,"preview_image":{"aspect_ratio":1.501,"height":933,"width":1400,"src":"https:\/\/cdn.shopify.com\/s\/files\/1\/1861\/0291\/products\/1__optimized_9ad59684-2176-4972-a07c-5da7dad196b2.jpg?v=1579828128"},"aspect_ratio":1.501,"height":933,"media_type":"image","src":"https:\/\/cdn.shopify.com\/s\/files\/1\/1861\/0291\/products\/1__optimized_9ad59684-2176-4972-a07c-5da7dad196b2.jpg?v=1579828128","width":1400},{"alt":"Tucker 5 Burner GTR BBQ Built In with Hinged Lid, BBQ, Tucker Australia","id":2181131763792,"position":6,"preview_image":{"aspect_ratio":0.667,"height":2100,"width":1400,"src":"https:\/\/cdn.shopify.com\/s\/files\/1\/1861\/0291\/products\/6__optimized_ad94b59f-af06-44d7-b3c2-e516560ae19c.jpg?v=1579828128"},"aspect_ratio":0.667,"height":2100,"media_type":"image","src":"https:\/\/cdn.shopify.com\/s\/files\/1\/1861\/0291\/products\/6__optimized_ad94b59f-af06-44d7-b3c2-e516560ae19c.jpg?v=1579828128","width":1400},{"alt":"Tucker 5 Burner GTR BBQ Built In with Hinged Lid, BBQ, Tucker Australia","id":2181132255312,"position":7,"preview_image":{"aspect_ratio":0.667,"height":2100,"width":1400,"src":"https:\/\/cdn.shopify.com\/s\/files\/1\/1861\/0291\/products\/2__optimized_3629397b-e458-4883-beb6-befcda095fa3.jpg?v=1579828128"},"aspect_ratio":0.667,"height":2100,"media_type":"image","src":"https:\/\/cdn.shopify.com\/s\/files\/1\/1861\/0291\/products\/2__optimized_3629397b-e458-4883-beb6-befcda095fa3.jpg?v=1579828128","width":1400},{"alt":"Tucker 5 Burner GTR BBQ Built In with Hinged Lid, BBQ, Tucker Australia","id":2181133041744,"position":8,"preview_image":{"aspect_ratio":0.667,"height":2100,"width":1400,"src":"https:\/\/cdn.shopify.com\/s\/files\/1\/1861\/0291\/products\/3_1d9adac7-da12-47bb-baf7-28dd516a9ccc.jpg?v=1579828128"},"aspect_ratio":0.667,"height":2100,"media_type":"image","src":"https:\/\/cdn.shopify.com\/s\/files\/1\/1861\/0291\/products\/3_1d9adac7-da12-47bb-baf7-28dd516a9ccc.jpg?v=1579828128","width":1400},{"alt":"Tucker 5 Burner GTR BBQ Built In with Hinged Lid, BBQ, Tucker Australia","id":2181133795408,"position":9,"preview_image":{"aspect_ratio":0.667,"height":2100,"width":1400,"src":"https:\/\/cdn.shopify.com\/s\/files\/1\/1861\/0291\/products\/5__optimized_593db1df-6643-4f8b-85d8-5ab9e548ade5.jpg?v=1579828128"},"aspect_ratio":0.667,"height":2100,"media_type":"image","src":"https:\/\/cdn.shopify.com\/s\/files\/1\/1861\/0291\/products\/5__optimized_593db1df-6643-4f8b-85d8-5ab9e548ade5.jpg?v=1579828128","width":1400},{"alt":"Tucker 5 Burner GTR BBQ Built In with Hinged Lid, BBQ, Tucker Australia","id":2181134286928,"position":10,"preview_image":{"aspect_ratio":1.357,"height":884,"width":1200,"src":"https:\/\/cdn.shopify.com\/s\/files\/1\/1861\/0291\/products\/Roasting_Rack_and_Pan_set_for_Tucker_Stainless_Steel_BBQ_Built_In-RClass-GTR-GT__optimized_5c4f499c-e56c-41ac-973a-1ef7b8acaede.jpg?v=1579828128"},"aspect_ratio":1.357,"height":884,"media_type":"image","src":"https:\/\/cdn.shopify.com\/s\/files\/1\/1861\/0291\/products\/Roasting_Rack_and_Pan_set_for_Tucker_Stainless_Steel_BBQ_Built_In-RClass-GTR-GT__optimized_5c4f499c-e56c-41ac-973a-1ef7b8acaede.jpg?v=1579828128","width":1200}],"requires_selling_plan":false,"selling_plan_groups":[],"content":"\u003ch4\u003e\u003cstrong\u003eDescription\u003c\/strong\u003e\u003c\/h4\u003e\n\u003cdiv class=\"videoWrapper\"\u003e\u003ciframe width=\"560\" height=\"315\" src=\"https:\/\/www.youtube.com\/embed\/O7poAsh2cvA\" frameborder=\"0\" gesture=\"media\" allow=\"encrypted-media\" allowfullscreen=\"\"\u003e\u003c\/iframe\u003e\u003c\/div\u003e\n\u003cp\u003e \u003c\/p\u003e\n\u003cp\u003e\u003ca title=\"Need Help Assembling?\" href=\"https:\/\/tuckerbbq.com.au\/products\/bbq-assembly-sydney-metro?variant=12300577144912\" referrerpolicy=\"origin\" data-mce-href=\"https:\/\/tuckerbbq.com.au\/products\/bbq-assembly-sydney-metro?variant=12300577144912\"\u003e\u003cimg style=\"display: block; margin-left: auto; margin-right: auto;\" src=\"https:\/\/cdn.shopify.com\/s\/files\/1\/1861\/0291\/files\/need_assembling_480x480.jpg?v=1608243040\" alt=\"Need Help Assembling?\" data-mce-selected=\"1\" data-mce-src=\"https:\/\/cdn.shopify.com\/s\/files\/1\/1861\/0291\/files\/need_assembling_480x480.jpg?v=1608243040\"\u003e\u003c\/a\u003e\u003c\/p\u003e\n\u003cp\u003eThe new GTR Series is our hottest, even heat BBQ to date. \u003c\/p\u003e\n\u003cp\u003eAll GTR BBQs have an extra burner added to the design, to create that incredible even heat that these units are already getting famous for.\u003c\/p\u003e\n\u003cp\u003e- 5 full length burners in the body of what traditionally is a 4 burner BBQ - hot!!\u003cbr\u003e- Incredible heat control and cook times\u003cbr\u003e- Top of the line 304 grade stainless steel\u003cbr\u003e- Strong, custom designed and made stainless grill and 5mm plate.\u003cbr\u003e- Hinged flat stainless steel lid\u003cbr\u003e- Insulation Jacket available for building into combustibles\u003cbr\u003e- Environmental and easy clean slimline drip tray, no sand or fat absorb required.\u003cbr\u003e- Robust construction, hand-welded stainless steel, polished every corner.\u003cbr\u003e- Lifetime manifold warranty\u003cbr\u003e- 10 year structural warranty on firebox\u003cbr\u003e- Readily available and reasonably priced spare parts. \u003cbr\u003e- Tucker Stainless Steel Roasting Pan and Rack included\u003c\/p\u003e\n\u003cp\u003e\u003cspan\u003eUnlike other manufacturers if you select Natural Gas, we will supply your unit already converted to Natural Gas ready for plug and play (Most just send a Natural Gas Kit which requires an authorised person to change over the jets).\u003c\/span\u003e\u003c\/p\u003e\n\u003cp\u003eAre you ready to impress with the best BBQ you've ever owned?\u003c\/p\u003e\n\u003ch4\u003eSpecifications\u003c\/h4\u003e\n\u003cp\u003e\u003cstrong\u003eData Sheet:\u003c\/strong\u003e\u003c\/p\u003e\n\u003cp\u003e\u003ca href=\"https:\/\/cdn.shopify.com\/s\/files\/1\/1861\/0291\/files\/GTR_5_Data_Sheet_built-in.pdf?v=1627901214\" referrerpolicy=\"origin\" title=\"GTR 5 Burner Built In Data Sheet.pdf\" target=\"_blank\"\u003e\u003cspan style=\"text-decoration: underline;\"\u003eGTR 5 Burner Built In Data Sheet.pdf\u003c\/span\u003e\u003c\/a\u003e\u003c\/p\u003e\n\u003cp\u003e\u003cstrong\u003eDimensions:\u003c\/strong\u003e\u003c\/p\u003e\n\u003cp\u003e\u003ca href=\"https:\/\/cdn.shopify.com\/s\/files\/1\/1861\/0291\/files\/GTR_Built-in_Dimensions_V15.01.2021_WB.pdf?v=1611049062\" referrerpolicy=\"origin\" title=\"GTR 5 Burner Built In Dimensions.pdf\" target=\"_blank\"\u003e\u003cspan style=\"text-decoration: underline;\"\u003eGTR 5 Burner Built In Dimensions.pdf\u003c\/span\u003e\u003c\/a\u003e\u003c\/p\u003e\n\u003cp\u003eIf you purchase the GTR without insulation jacket you must install the appliance in non combustible materials only, such as brickwork or granite. Please note that Caesarstone can be damaged by sudden and rapid surface temperature changes and would not be an appropriate benchtop without an insulation jacket.\u003c\/p\u003e\n\u003cp\u003eThe GTR has lips on each side to hang off the brickwork.\u003c\/p\u003e\n\u003cp\u003eIf you purchase the additional insulation jacket you can install the GTR BBQ into any outdoor kitchen cabinetry including MDF, Caesar stone, timber etc. The BBQ will not hang, the jacket will simply sit in your cutout and in turn the BBQ sits in the jacket.\u003c\/p\u003e\n\u003ch4\u003eManuals\u003c\/h4\u003e\n\u003cp\u003e\u003cstrong\u003eManuals:\u003c\/strong\u003e\u003c\/p\u003e\n\u003cp\u003e\u003ca href=\"https:\/\/cdn.shopify.com\/s\/files\/1\/1861\/0291\/files\/GTR_Built-In_BBQ_Manual_Website_V29.01.2021.pdf?v=1611920677\" referrerpolicy=\"origin\" title=\"GTR Built-in Instructions\" target=\"_blank\"\u003e\u003cspan style=\"text-decoration: underline;\"\u003eGTR BBQ Built In Assembly and Operating Instructions.pdf\u003c\/span\u003e\u003c\/a\u003e\u003c\/p\u003e\n\u003cp\u003e\u003ca href=\"https:\/\/cdn.shopify.com\/s\/files\/1\/1861\/0291\/files\/GTR_R_Class_Insulation_Jacket_Assembly_Instructions_comb_V24.06.2022_Web.pdf?v=1656065110\" target=\"_blank\" rel=\"noopener noreferrer\"\u003e\u003cspan style=\"text-decoration: underline;\"\u003eGTR Insulation Jacket Assembly and Installation Instructions.pdf\u003c\/span\u003e \u003c\/a\u003e\u003c\/p\u003e"}
Tucker 5 Burner GTR BBQ Built In with Hinged Lid
Tucker 5 Burner GTR BBQ Built In with Hinged Lid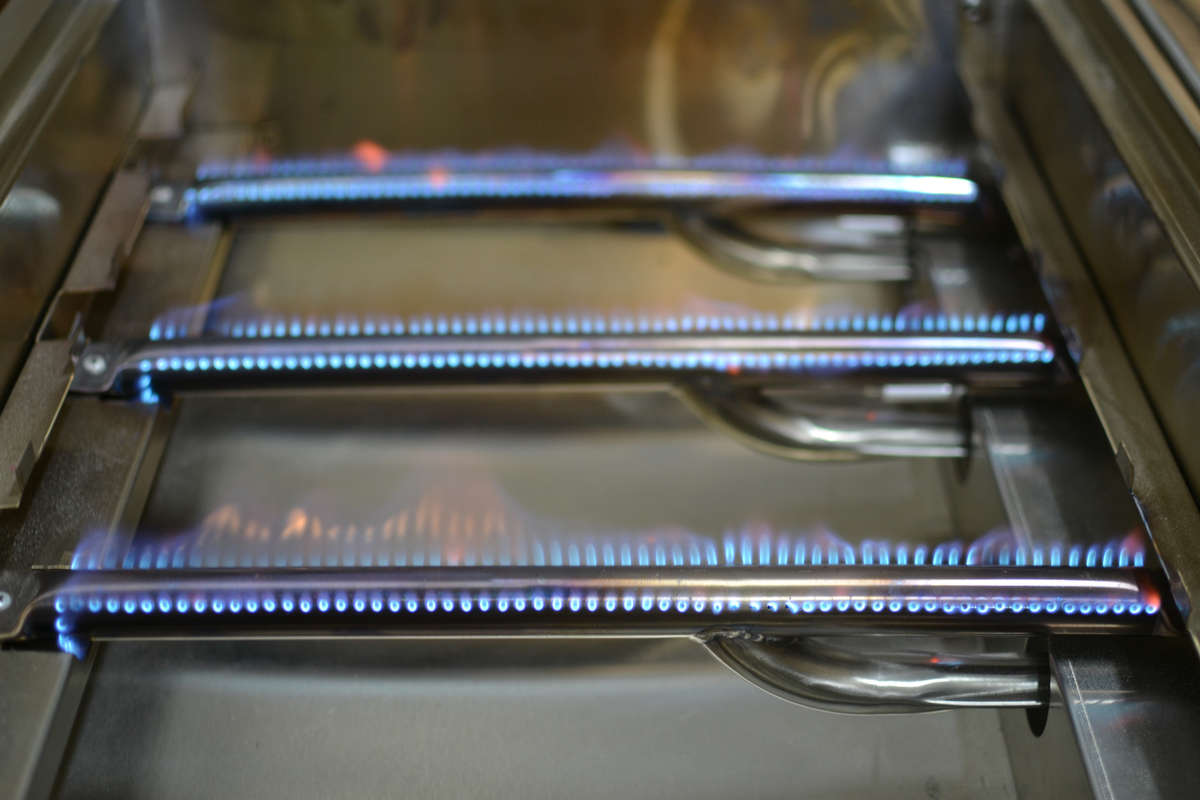 Many other BBQs on the market have vented sides, or the base or back is open meaning you're dependent on external factors to try and cook that perfect steak! The unique GTR twin skin insulated and sealed firebox means you get the same performance no matter where you are - in a sheltered environment or right on the windy coast. The high powered GTR burners are fully protected, meaning we can also position them to maximise heat spread and minimise flare ups.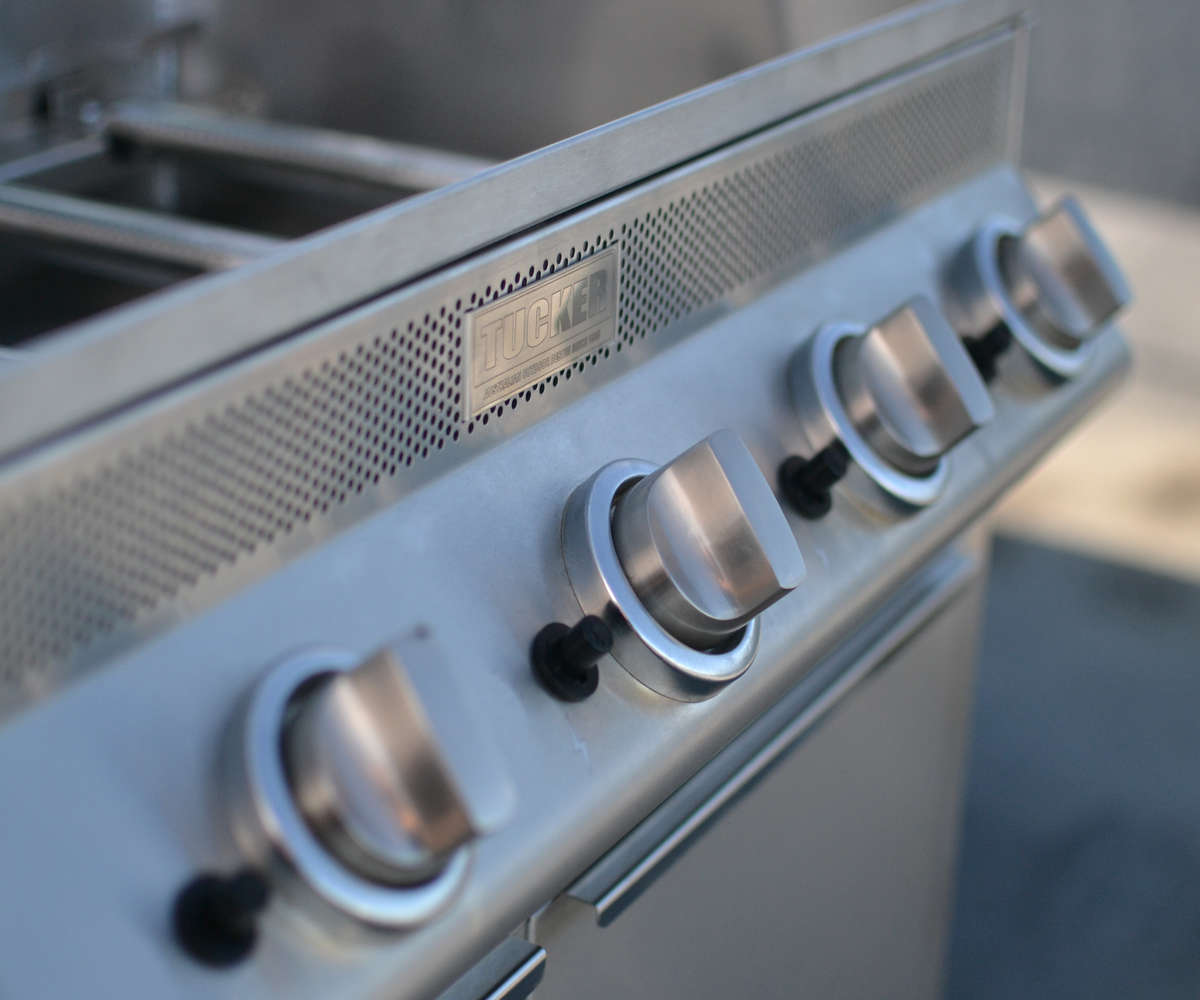 Other units on the market need to position their burners quite close to the plates and grills to avoid heat escape from the open base of their barbecues. Because the GTR is fully insulated, we have more room to move and all our heat evenly rises to the cooking surfaces providing superior control. This design costs more to manufacture, but much more energy efficient to use. With all the heat retained inside the firebox, the Tucker GTR is up to 60% more efficient than other BBQs yet the internal temperature of the unit can still reach a whopping 550℃. The twin skin firebox means you can still touch the external body without getting burned.
Our Tucker GTR Flame Guards protect the full length burners, and their pyramid design contributes to the amazing heat consistency found in this series. The slimline front loading drip tray makes cleaning excess oil a breeze. Simply pull out from the front of the GTR and rinse. Our classic Tucker piezo ignitions are installed on every burner, don't require batteries or electricity - and last for years.
We are truly proud of the Tucker GTR Barbecue range. We are the only Australian company that 100% owns it's manufacturing plant, which nearly every component is made in our facility, in house. This means we don't need to compromise on our designs. We also service repair all our current and legacy Tucker units - we're repairing units across Sydney that we made 20 years ago! We hope you consider purchasing a GTR and take your cooking to the next level.