{"id":10787853830,"title":"Tucker Horizon Marine Grade BBQ Built In with Slimline Hood","handle":"tucker-horizon-316-bbq-with-roasting-hood","description":"\u003cmeta charset=\"utf-8\"\u003e\n\u003ch4\u003e\u003cspan\u003eDescription\u003c\/span\u003e\u003c\/h4\u003e\n\u003cdiv class=\"videoWrapper\"\u003e\u003ciframe width=\"560\" height=\"315\" src=\"https:\/\/www.youtube.com\/embed\/DIdB8r_vrP0\" frameborder=\"0\" allowfullscreen=\"\"\u003e\u003c\/iframe\u003e\u003c\/div\u003e\n\u003cdiv\u003e\u003cbr\u003e\u003c\/div\u003e\n\u003cdiv\u003e\u003ca href=\"https:\/\/tuckerbbq.com.au\/products\/bbq-assembly-sydney-metro?variant=12300577144912\" referrerpolicy=\"origin\" title=\"Need Help Assembling?\" data-mce-href=\"https:\/\/tuckerbbq.com.au\/products\/bbq-assembly-sydney-metro?variant=12300577144912\"\u003e\u003cimg alt=\"Need Help Assembling?\" src=\"https:\/\/cdn.shopify.com\/s\/files\/1\/1861\/0291\/files\/need_assembling_480x480.jpg?v=1608243040\" style=\"display: block; margin-left: auto; margin-right: auto;\" data-mce-src=\"https:\/\/cdn.shopify.com\/s\/files\/1\/1861\/0291\/files\/need_assembling_480x480.jpg?v=1608243040\" data-mce-selected=\"1\"\u003e\u003c\/a\u003e\u003c\/div\u003e\n\u003cdiv\u003e\u003cspan\u003eWith an exterior surface finished in 316 marine grade stainless steel and an all interior stainless steel surface designed in commercial 304 grade. The Horizon barbecue is an Australian first designed for handling extreme weather conditions and heavy temperature demands.\u003cbr\u003e\u003cbr\u003eUpright ergonomic solid stainless steel control knobs allow the Horizon barbecue to integrate seamlessly into bench tops or the like. \u003cbr\u003e\u003cbr\u003eOptional low profile hood too accommodate roasting or a discreet flat stainless steel weather cover ensures the continuity of flowing lines for an architectural looking installation. A triple skinned insulated firebox is standard and makes installing easy. \u003cbr\u003e\u003cbr\u003eWith a solid stainless steel hotplate at the front of the cooking surface, it is a sheer pleasure to operate as heat is deflected away from the user through the rear grill at the back of the barbecue.\u003cbr\u003e\u003cbr\u003eHeat distribution is amazingly even as the Horizon has two powerful stainless steel tri burners offering a distribution similar to that of up to 6 standard burners, punching out 52 megajules over a surface area of 630 x 450mm. With the clever design of the Tucker tri burners, cooking on the Horizon is a luxury with virtually no cold spots. Combine this with over 400 port holes per burner, no other Australian BBQ comes close to clean burning heat distribution that the Horizon offers.\u003cbr\u003e\u003cbr\u003eBeneath the open grill, a solid stainless steel vaporiser vanquishes flare and channels grease conveniently into a collector positioned on the left of the cooking area. The cooking surfaces and all internals can be easily removed for easy access, a feature that is unique to the Horizon BBQ.\u003cbr\u003e\u003cbr\u003e\u003c\/span\u003e\u003c\/div\u003e\n\u003cdiv\u003e\u003cspan\u003eUnlike other manufacturers if you select Natural Gas, we will supply your unit already converted to Natural Gas read for plug and play (Most just send a Natural Gas Kit which requires an authorised person to change over the jets).\u003cbr\u003e\u003c\/span\u003e\u003c\/div\u003e\n\u003cdiv\u003e\u003cspan\u003e\u003c\/span\u003e\u003c\/div\u003e\n\u003cdiv\u003e\u003cspan\u003e\u003c\/span\u003e\u003c\/div\u003e\n\u003ch4\u003e\n\u003cspan\u003eSpecifications\u003c\/span\u003e \u003c\/h4\u003e\n\u003cdiv\u003e\u003cspan\u003e\u003c\/span\u003e\u003c\/div\u003e\n\u003cdiv\u003e\u003cstrong\u003eData Sheet: \u003c\/strong\u003e\u003c\/div\u003e\n\u003cdiv\u003e\u003ca href=\"https:\/\/cdn.shopify.com\/s\/files\/1\/1861\/0291\/files\/Horizon_data_sheet_V10.08.2021.pdf?v=1643356892\" target=\"_blank\" title=\"Horizon BBQ Data Sheet\" rel=\"noopener noreferrer\"\u003e\u003cspan style=\"text-decoration: underline;\"\u003eHorizon Marine Grade BBQ Data Sheet.pdf\u003c\/span\u003e\u003c\/a\u003e\u003c\/div\u003e\n\u003cdiv\u003e\u003cstrong\u003e \u003c\/strong\u003e\u003c\/div\u003e\n\u003cdiv\u003e\n\u003cstrong\u003eDimensions\u003c\/strong\u003e:\u003c\/div\u003e\n\u003cdiv\u003e\u003ca href=\"https:\/\/cdn.shopify.com\/s\/files\/1\/1861\/0291\/files\/Horizon_BBQ_Dimensions_One_Document_V10.08.2021.pdf?v=1628607872\" referrerpolicy=\"origin\" title=\"Horizon Marine Grade BBQ Built In Dimensions.pdf\" target=\"_blank\"\u003e\u003cspan style=\"text-decoration: underline;\"\u003eHorizon Marine Grade BBQ Dimensions.pdf\u003c\/span\u003e\u003c\/a\u003e\u003c\/div\u003e\n\u003cdiv\u003e\u003c\/div\u003e\n\u003cdiv\u003e\u003c\/div\u003e\n\u003cdiv\u003e\u003c\/div\u003e\n\u003cdiv\u003e\u003cspan style=\"text-decoration: underline;\"\u003e\u003c\/span\u003e\u003c\/div\u003e\n\u003cdiv\u003e\u003cspan style=\"text-decoration: underline;\"\u003e\u003c\/span\u003e\u003c\/div\u003e\n\u003cdiv\u003e\u003cspan style=\"text-decoration: underline;\"\u003e\u003c\/span\u003e\u003c\/div\u003e\n\u003ch4\u003e\u003cspan\u003eManuals\u003c\/span\u003e\u003c\/h4\u003e\n\u003cdiv\u003e\u003cspan style=\"text-decoration: underline;\"\u003e\u003ca href=\"https:\/\/cdn.shopify.com\/s\/files\/1\/1861\/0291\/files\/Horizon_Instructions_V10.08.2021_Web.pdf?v=1628678938\" referrerpolicy=\"origin\" target=\"_blank\"\u003eHorizon BBQ Instructions.pdf\u003c\/a\u003e\u003ca href=\"https:\/\/cdn.shopify.com\/s\/files\/1\/1861\/0291\/files\/Horizon_data_sheet.pdf?17226170602663270849\" referrerpolicy=\"origin\" target=\"_blank\"\u003e\u003cbr\u003e\u003c\/a\u003e\u003ca href=\"https:\/\/cdn.shopify.com\/s\/files\/1\/1861\/0291\/files\/Horizon_Hood_instructions.pdf?11663536678129767317\" referrerpolicy=\"origin\" target=\"_blank\"\u003eHorizon Hood Instructions.pdf\u003c\/a\u003e\u003c\/span\u003e\u003c\/div\u003e","published_at":"2017-06-26T12:50:41+10:00","created_at":"2017-06-26T12:53:04+10:00","vendor":"Tucker Australia","type":"BBQ","tags":["2 Burners","316","Built In","Marine Grade","Natural Gas","Tucker","Tucker BBQ"],"price":333400,"price_min":333400,"price_max":357700,"available":true,"price_varies":true,"compare_at_price":333400,"compare_at_price_min":333400,"compare_at_price_max":357700,"compare_at_price_varies":true,"variants":[{"id":42183753990376,"title":"LPG Gas + $36 \/ No Cover","option1":"LPG Gas + $36","option2":"No Cover","option3":null,"sku":"BBQ-1","requires_shipping":true,"taxable":true,"featured_image":null,"available":true,"name":"Tucker Horizon Marine Grade BBQ Built In with Slimline Hood - LPG Gas + $36 \/ No Cover","public_title":"LPG Gas + $36 \/ No Cover","options":["LPG Gas + $36","No Cover"],"price":333400,"weight":0,"compare_at_price":333400,"inventory_quantity":-4,"inventory_management":null,"inventory_policy":"deny","barcode":null,"requires_selling_plan":false,"selling_plan_allocations":[]},{"id":42183754023144,"title":"LPG Gas + $36 \/ Slimline Hood Cover + $130","option1":"LPG Gas + $36","option2":"Slimline Hood Cover + $130","option3":null,"sku":"BBQ-1","requires_shipping":true,"taxable":true,"featured_image":null,"available":true,"name":"Tucker Horizon Marine Grade BBQ Built In with Slimline Hood - LPG Gas + $36 \/ Slimline Hood Cover + $130","public_title":"LPG Gas + $36 \/ Slimline Hood Cover + $130","options":["LPG Gas + $36","Slimline Hood Cover + $130"],"price":346400,"weight":0,"compare_at_price":346400,"inventory_quantity":-1,"inventory_management":null,"inventory_policy":"deny","barcode":null,"requires_selling_plan":false,"selling_plan_allocations":[]},{"id":42077394731240,"title":"Natural Gas + $149 \/ No Cover","option1":"Natural Gas + $149","option2":"No Cover","option3":null,"sku":"BBQ-2","requires_shipping":true,"taxable":true,"featured_image":null,"available":true,"name":"Tucker Horizon Marine Grade BBQ Built In with Slimline Hood - Natural Gas + $149 \/ No Cover","public_title":"Natural Gas + $149 \/ No Cover","options":["Natural Gas + $149","No Cover"],"price":344700,"weight":0,"compare_at_price":344700,"inventory_quantity":-4,"inventory_management":null,"inventory_policy":"deny","barcode":null,"requires_selling_plan":false,"selling_plan_allocations":[]},{"id":42142288314600,"title":"Natural Gas + $149 \/ Slimline Hood Cover + $130","option1":"Natural Gas + $149","option2":"Slimline Hood Cover + $130","option3":null,"sku":"BBQ-2","requires_shipping":true,"taxable":true,"featured_image":null,"available":true,"name":"Tucker Horizon Marine Grade BBQ Built In with Slimline Hood - Natural Gas + $149 \/ Slimline Hood Cover + $130","public_title":"Natural Gas + $149 \/ Slimline Hood Cover + $130","options":["Natural Gas + $149","Slimline Hood Cover + $130"],"price":357700,"weight":0,"compare_at_price":357700,"inventory_quantity":-3,"inventory_management":null,"inventory_policy":"deny","barcode":null,"requires_selling_plan":false,"selling_plan_allocations":[]}],"images":["\/\/cdn.shopify.com\/s\/files\/1\/1861\/0291\/products\/Horizon_1_a23d3949-8c9d-4828-90ac-4c8ac8670309.jpg?v=1579828189","\/\/cdn.shopify.com\/s\/files\/1\/1861\/0291\/products\/Horizon_1.jpg?v=1579828189","\/\/cdn.shopify.com\/s\/files\/1\/1861\/0291\/products\/Horizon_1_bf141581-147d-4478-91a2-be91dd5864a2.jpg?v=1579828189","\/\/cdn.shopify.com\/s\/files\/1\/1861\/0291\/products\/Horizon_1.2.jpg?v=1579828189","\/\/cdn.shopify.com\/s\/files\/1\/1861\/0291\/products\/Horizon_1_7a8ca554-cb3a-4f69-88ae-9f973df195fe.jpg?v=1579828189","\/\/cdn.shopify.com\/s\/files\/1\/1861\/0291\/products\/DSC_0348_084eaac7-f89d-46be-849f-9d37149a362e__optimized.jpg?v=1579828189","\/\/cdn.shopify.com\/s\/files\/1\/1861\/0291\/products\/DSC_0357__optimized.jpg?v=1579828189","\/\/cdn.shopify.com\/s\/files\/1\/1861\/0291\/products\/DSC_0416_3c5208f8-a29f-40b8-8bd3-55369422b859__optimized.jpg?v=1579828189","\/\/cdn.shopify.com\/s\/files\/1\/1861\/0291\/products\/DSC_0272_032cbd78-a28d-4f45-b8a6-31558551b46c__optimized.jpg?v=1579828189","\/\/cdn.shopify.com\/s\/files\/1\/1861\/0291\/products\/DSC_0290_d322bcc3-f656-4f39-a436-f41bcc644727__optimized.jpg?v=1579828189","\/\/cdn.shopify.com\/s\/files\/1\/1861\/0291\/products\/DSC_0275__optimized.jpg?v=1579828189","\/\/cdn.shopify.com\/s\/files\/1\/1861\/0291\/products\/DSC_0343__optimized.jpg?v=1579828189","\/\/cdn.shopify.com\/s\/files\/1\/1861\/0291\/products\/DSC_0345__optimized.jpg?v=1579828189","\/\/cdn.shopify.com\/s\/files\/1\/1861\/0291\/products\/DSC_0391_22f86dc9-3339-46c2-a403-b4b7ddf90974__optimized.jpg?v=1579828189","\/\/cdn.shopify.com\/s\/files\/1\/1861\/0291\/products\/Dims-01_3e82765a-14cd-464c-b92e-0c18c6818aa8.jpg?v=1579828189","\/\/cdn.shopify.com\/s\/files\/1\/1861\/0291\/products\/unna4med.jpg?v=1579828190","\/\/cdn.shopify.com\/s\/files\/1\/1861\/0291\/products\/unnamed.jpg?v=1579828190","\/\/cdn.shopify.com\/s\/files\/1\/1861\/0291\/products\/IMG_3904.jpg?v=1611883707","\/\/cdn.shopify.com\/s\/files\/1\/1861\/0291\/products\/IMG_3648.jpg?v=1611883707"],"featured_image":"\/\/cdn.shopify.com\/s\/files\/1\/1861\/0291\/products\/Horizon_1_a23d3949-8c9d-4828-90ac-4c8ac8670309.jpg?v=1579828189","options":["Gas Type","Cover"],"media":[{"alt":"Tucker Horizon Marine Grade BBQ Built In with Slimline Hood, BBQ, Tucker Australia","id":1619328958544,"position":1,"preview_image":{"aspect_ratio":1.778,"height":1575,"width":2800,"src":"https:\/\/cdn.shopify.com\/s\/files\/1\/1861\/0291\/products\/Horizon_1_a23d3949-8c9d-4828-90ac-4c8ac8670309.jpg?v=1579828189"},"aspect_ratio":1.778,"height":1575,"media_type":"image","src":"https:\/\/cdn.shopify.com\/s\/files\/1\/1861\/0291\/products\/Horizon_1_a23d3949-8c9d-4828-90ac-4c8ac8670309.jpg?v=1579828189","width":2800},{"alt":"Tucker Horizon Marine Grade BBQ Built In with Slimline Hood, BBQ, Tucker Australia","id":1619328434256,"position":2,"preview_image":{"aspect_ratio":1.778,"height":1350,"width":2400,"src":"https:\/\/cdn.shopify.com\/s\/files\/1\/1861\/0291\/products\/Horizon_1.jpg?v=1579828189"},"aspect_ratio":1.778,"height":1350,"media_type":"image","src":"https:\/\/cdn.shopify.com\/s\/files\/1\/1861\/0291\/products\/Horizon_1.jpg?v=1579828189","width":2400},{"alt":"Tucker Horizon Marine Grade BBQ Built In with Slimline Hood, BBQ, Tucker Australia","id":1619328860240,"position":3,"preview_image":{"aspect_ratio":1.778,"height":1575,"width":2800,"src":"https:\/\/cdn.shopify.com\/s\/files\/1\/1861\/0291\/products\/Horizon_1_bf141581-147d-4478-91a2-be91dd5864a2.jpg?v=1579828189"},"aspect_ratio":1.778,"height":1575,"media_type":"image","src":"https:\/\/cdn.shopify.com\/s\/files\/1\/1861\/0291\/products\/Horizon_1_bf141581-147d-4478-91a2-be91dd5864a2.jpg?v=1579828189","width":2800},{"alt":"Tucker Horizon Marine Grade BBQ Built In with Slimline Hood, BBQ, Tucker Australia","id":1620688568400,"position":4,"preview_image":{"aspect_ratio":1.778,"height":1575,"width":2800,"src":"https:\/\/cdn.shopify.com\/s\/files\/1\/1861\/0291\/products\/Horizon_1.2.jpg?v=1579828189"},"aspect_ratio":1.778,"height":1575,"media_type":"image","src":"https:\/\/cdn.shopify.com\/s\/files\/1\/1861\/0291\/products\/Horizon_1.2.jpg?v=1579828189","width":2800},{"alt":"Tucker Horizon Marine Grade BBQ Built In with Slimline Hood, BBQ, Tucker Australia","id":1619331973200,"position":5,"preview_image":{"aspect_ratio":1.778,"height":1575,"width":2800,"src":"https:\/\/cdn.shopify.com\/s\/files\/1\/1861\/0291\/products\/Horizon_1_7a8ca554-cb3a-4f69-88ae-9f973df195fe.jpg?v=1579828189"},"aspect_ratio":1.778,"height":1575,"media_type":"image","src":"https:\/\/cdn.shopify.com\/s\/files\/1\/1861\/0291\/products\/Horizon_1_7a8ca554-cb3a-4f69-88ae-9f973df195fe.jpg?v=1579828189","width":2800},{"alt":"Tucker Horizon Marine Grade BBQ Built In with Slimline Hood, BBQ, Tucker Australia","id":1619329450064,"position":6,"preview_image":{"aspect_ratio":0.607,"height":4560,"width":2767,"src":"https:\/\/cdn.shopify.com\/s\/files\/1\/1861\/0291\/products\/DSC_0348_084eaac7-f89d-46be-849f-9d37149a362e__optimized.jpg?v=1579828189"},"aspect_ratio":0.607,"height":4560,"media_type":"image","src":"https:\/\/cdn.shopify.com\/s\/files\/1\/1861\/0291\/products\/DSC_0348_084eaac7-f89d-46be-849f-9d37149a362e__optimized.jpg?v=1579828189","width":2767},{"alt":"Tucker Horizon Marine Grade BBQ Built In with Slimline Hood, BBQ, Tucker Australia","id":1619329613904,"position":7,"preview_image":{"aspect_ratio":1.5,"height":2731,"width":4096,"src":"https:\/\/cdn.shopify.com\/s\/files\/1\/1861\/0291\/products\/DSC_0357__optimized.jpg?v=1579828189"},"aspect_ratio":1.5,"height":2731,"media_type":"image","src":"https:\/\/cdn.shopify.com\/s\/files\/1\/1861\/0291\/products\/DSC_0357__optimized.jpg?v=1579828189","width":4096},{"alt":"Tucker Horizon Marine Grade BBQ Built In with Slimline Hood, BBQ, Tucker Australia","id":1619330039888,"position":8,"preview_image":{"aspect_ratio":1.5,"height":3072,"width":4608,"src":"https:\/\/cdn.shopify.com\/s\/files\/1\/1861\/0291\/products\/DSC_0416_3c5208f8-a29f-40b8-8bd3-55369422b859__optimized.jpg?v=1579828189"},"aspect_ratio":1.5,"height":3072,"media_type":"image","src":"https:\/\/cdn.shopify.com\/s\/files\/1\/1861\/0291\/products\/DSC_0416_3c5208f8-a29f-40b8-8bd3-55369422b859__optimized.jpg?v=1579828189","width":4608},{"alt":"Tucker Horizon Marine Grade BBQ Built In with Slimline Hood, BBQ, Tucker Australia","id":1619330400336,"position":9,"preview_image":{"aspect_ratio":1.5,"height":3072,"width":4608,"src":"https:\/\/cdn.shopify.com\/s\/files\/1\/1861\/0291\/products\/DSC_0272_032cbd78-a28d-4f45-b8a6-31558551b46c__optimized.jpg?v=1579828189"},"aspect_ratio":1.5,"height":3072,"media_type":"image","src":"https:\/\/cdn.shopify.com\/s\/files\/1\/1861\/0291\/products\/DSC_0272_032cbd78-a28d-4f45-b8a6-31558551b46c__optimized.jpg?v=1579828189","width":4608},{"alt":"Tucker Horizon Marine Grade BBQ Built In with Slimline Hood, BBQ, Tucker Australia","id":1619330433104,"position":10,"preview_image":{"aspect_ratio":1.678,"height":2746,"width":4608,"src":"https:\/\/cdn.shopify.com\/s\/files\/1\/1861\/0291\/products\/DSC_0290_d322bcc3-f656-4f39-a436-f41bcc644727__optimized.jpg?v=1579828189"},"aspect_ratio":1.678,"height":2746,"media_type":"image","src":"https:\/\/cdn.shopify.com\/s\/files\/1\/1861\/0291\/products\/DSC_0290_d322bcc3-f656-4f39-a436-f41bcc644727__optimized.jpg?v=1579828189","width":4608},{"alt":"Tucker Horizon Marine Grade BBQ Built In with Slimline Hood, BBQ, Tucker Australia","id":1619330596944,"position":11,"preview_image":{"aspect_ratio":1.5,"height":3072,"width":4608,"src":"https:\/\/cdn.shopify.com\/s\/files\/1\/1861\/0291\/products\/DSC_0275__optimized.jpg?v=1579828189"},"aspect_ratio":1.5,"height":3072,"media_type":"image","src":"https:\/\/cdn.shopify.com\/s\/files\/1\/1861\/0291\/products\/DSC_0275__optimized.jpg?v=1579828189","width":4608},{"alt":"Tucker Horizon Marine Grade BBQ Built In with Slimline Hood, BBQ, Tucker Australia","id":1619330891856,"position":12,"preview_image":{"aspect_ratio":1.5,"height":3072,"width":4608,"src":"https:\/\/cdn.shopify.com\/s\/files\/1\/1861\/0291\/products\/DSC_0343__optimized.jpg?v=1579828189"},"aspect_ratio":1.5,"height":3072,"media_type":"image","src":"https:\/\/cdn.shopify.com\/s\/files\/1\/1861\/0291\/products\/DSC_0343__optimized.jpg?v=1579828189","width":4608},{"alt":"Tucker Horizon Marine Grade BBQ Built In with Slimline Hood, BBQ, Tucker Australia","id":1619331055696,"position":13,"preview_image":{"aspect_ratio":0.864,"height":3556,"width":3072,"src":"https:\/\/cdn.shopify.com\/s\/files\/1\/1861\/0291\/products\/DSC_0345__optimized.jpg?v=1579828189"},"aspect_ratio":0.864,"height":3556,"media_type":"image","src":"https:\/\/cdn.shopify.com\/s\/files\/1\/1861\/0291\/products\/DSC_0345__optimized.jpg?v=1579828189","width":3072},{"alt":"Tucker Horizon Marine Grade BBQ Built In with Slimline Hood, BBQ, Tucker Australia","id":1619331121232,"position":14,"preview_image":{"aspect_ratio":1.5,"height":3072,"width":4608,"src":"https:\/\/cdn.shopify.com\/s\/files\/1\/1861\/0291\/products\/DSC_0391_22f86dc9-3339-46c2-a403-b4b7ddf90974__optimized.jpg?v=1579828189"},"aspect_ratio":1.5,"height":3072,"media_type":"image","src":"https:\/\/cdn.shopify.com\/s\/files\/1\/1861\/0291\/products\/DSC_0391_22f86dc9-3339-46c2-a403-b4b7ddf90974__optimized.jpg?v=1579828189","width":4608},{"alt":"Tucker Horizon Marine Grade BBQ Built In with Slimline Hood, BBQ, Tucker Australia","id":2179792109648,"position":15,"preview_image":{"aspect_ratio":0.707,"height":3508,"width":2480,"src":"https:\/\/cdn.shopify.com\/s\/files\/1\/1861\/0291\/products\/Dims-01_3e82765a-14cd-464c-b92e-0c18c6818aa8.jpg?v=1579828189"},"aspect_ratio":0.707,"height":3508,"media_type":"image","src":"https:\/\/cdn.shopify.com\/s\/files\/1\/1861\/0291\/products\/Dims-01_3e82765a-14cd-464c-b92e-0c18c6818aa8.jpg?v=1579828189","width":2480},{"alt":"Tucker Horizon Marine Grade BBQ Built In with Slimline Hood, BBQ, Tucker Australia","id":2179792339024,"position":16,"preview_image":{"aspect_ratio":1.333,"height":1512,"width":2016,"src":"https:\/\/cdn.shopify.com\/s\/files\/1\/1861\/0291\/products\/unna4med.jpg?v=1579828190"},"aspect_ratio":1.333,"height":1512,"media_type":"image","src":"https:\/\/cdn.shopify.com\/s\/files\/1\/1861\/0291\/products\/unna4med.jpg?v=1579828190","width":2016},{"alt":"Tucker Horizon Marine Grade BBQ Built In with Slimline Hood, BBQ, Tucker Australia","id":2179792371792,"position":17,"preview_image":{"aspect_ratio":0.75,"height":2016,"width":1512,"src":"https:\/\/cdn.shopify.com\/s\/files\/1\/1861\/0291\/products\/unnamed.jpg?v=1579828190"},"aspect_ratio":0.75,"height":2016,"media_type":"image","src":"https:\/\/cdn.shopify.com\/s\/files\/1\/1861\/0291\/products\/unnamed.jpg?v=1579828190","width":1512},{"alt":"Tucker Horizon Marine Grade BBQ Built In with Slimline Hood - Tucker Barbecues","id":15398420381890,"position":18,"preview_image":{"aspect_ratio":1.5,"height":1667,"width":2500,"src":"https:\/\/cdn.shopify.com\/s\/files\/1\/1861\/0291\/products\/IMG_3904.jpg?v=1611883707"},"aspect_ratio":1.5,"height":1667,"media_type":"image","src":"https:\/\/cdn.shopify.com\/s\/files\/1\/1861\/0291\/products\/IMG_3904.jpg?v=1611883707","width":2500},{"alt":"Tucker Horizon Marine Grade BBQ Built In with Slimline Hood - Tucker Barbecues","id":15398422937794,"position":19,"preview_image":{"aspect_ratio":1.5,"height":3028,"width":4542,"src":"https:\/\/cdn.shopify.com\/s\/files\/1\/1861\/0291\/products\/IMG_3648.jpg?v=1611883707"},"aspect_ratio":1.5,"height":3028,"media_type":"image","src":"https:\/\/cdn.shopify.com\/s\/files\/1\/1861\/0291\/products\/IMG_3648.jpg?v=1611883707","width":4542}],"requires_selling_plan":false,"selling_plan_groups":[],"content":"\u003cmeta charset=\"utf-8\"\u003e\n\u003ch4\u003e\u003cspan\u003eDescription\u003c\/span\u003e\u003c\/h4\u003e\n\u003cdiv class=\"videoWrapper\"\u003e\u003ciframe width=\"560\" height=\"315\" src=\"https:\/\/www.youtube.com\/embed\/DIdB8r_vrP0\" frameborder=\"0\" allowfullscreen=\"\"\u003e\u003c\/iframe\u003e\u003c\/div\u003e\n\u003cdiv\u003e\u003cbr\u003e\u003c\/div\u003e\n\u003cdiv\u003e\u003ca href=\"https:\/\/tuckerbbq.com.au\/products\/bbq-assembly-sydney-metro?variant=12300577144912\" referrerpolicy=\"origin\" title=\"Need Help Assembling?\" data-mce-href=\"https:\/\/tuckerbbq.com.au\/products\/bbq-assembly-sydney-metro?variant=12300577144912\"\u003e\u003cimg alt=\"Need Help Assembling?\" src=\"https:\/\/cdn.shopify.com\/s\/files\/1\/1861\/0291\/files\/need_assembling_480x480.jpg?v=1608243040\" style=\"display: block; margin-left: auto; margin-right: auto;\" data-mce-src=\"https:\/\/cdn.shopify.com\/s\/files\/1\/1861\/0291\/files\/need_assembling_480x480.jpg?v=1608243040\" data-mce-selected=\"1\"\u003e\u003c\/a\u003e\u003c\/div\u003e\n\u003cdiv\u003e\u003cspan\u003eWith an exterior surface finished in 316 marine grade stainless steel and an all interior stainless steel surface designed in commercial 304 grade. The Horizon barbecue is an Australian first designed for handling extreme weather conditions and heavy temperature demands.\u003cbr\u003e\u003cbr\u003eUpright ergonomic solid stainless steel control knobs allow the Horizon barbecue to integrate seamlessly into bench tops or the like. \u003cbr\u003e\u003cbr\u003eOptional low profile hood too accommodate roasting or a discreet flat stainless steel weather cover ensures the continuity of flowing lines for an architectural looking installation. A triple skinned insulated firebox is standard and makes installing easy. \u003cbr\u003e\u003cbr\u003eWith a solid stainless steel hotplate at the front of the cooking surface, it is a sheer pleasure to operate as heat is deflected away from the user through the rear grill at the back of the barbecue.\u003cbr\u003e\u003cbr\u003eHeat distribution is amazingly even as the Horizon has two powerful stainless steel tri burners offering a distribution similar to that of up to 6 standard burners, punching out 52 megajules over a surface area of 630 x 450mm. With the clever design of the Tucker tri burners, cooking on the Horizon is a luxury with virtually no cold spots. Combine this with over 400 port holes per burner, no other Australian BBQ comes close to clean burning heat distribution that the Horizon offers.\u003cbr\u003e\u003cbr\u003eBeneath the open grill, a solid stainless steel vaporiser vanquishes flare and channels grease conveniently into a collector positioned on the left of the cooking area. The cooking surfaces and all internals can be easily removed for easy access, a feature that is unique to the Horizon BBQ.\u003cbr\u003e\u003cbr\u003e\u003c\/span\u003e\u003c\/div\u003e\n\u003cdiv\u003e\u003cspan\u003eUnlike other manufacturers if you select Natural Gas, we will supply your unit already converted to Natural Gas read for plug and play (Most just send a Natural Gas Kit which requires an authorised person to change over the jets).\u003cbr\u003e\u003c\/span\u003e\u003c\/div\u003e\n\u003cdiv\u003e\u003cspan\u003e\u003c\/span\u003e\u003c\/div\u003e\n\u003cdiv\u003e\u003cspan\u003e\u003c\/span\u003e\u003c\/div\u003e\n\u003ch4\u003e\n\u003cspan\u003eSpecifications\u003c\/span\u003e \u003c\/h4\u003e\n\u003cdiv\u003e\u003cspan\u003e\u003c\/span\u003e\u003c\/div\u003e\n\u003cdiv\u003e\u003cstrong\u003eData Sheet: \u003c\/strong\u003e\u003c\/div\u003e\n\u003cdiv\u003e\u003ca href=\"https:\/\/cdn.shopify.com\/s\/files\/1\/1861\/0291\/files\/Horizon_data_sheet_V10.08.2021.pdf?v=1643356892\" target=\"_blank\" title=\"Horizon BBQ Data Sheet\" rel=\"noopener noreferrer\"\u003e\u003cspan style=\"text-decoration: underline;\"\u003eHorizon Marine Grade BBQ Data Sheet.pdf\u003c\/span\u003e\u003c\/a\u003e\u003c\/div\u003e\n\u003cdiv\u003e\u003cstrong\u003e \u003c\/strong\u003e\u003c\/div\u003e\n\u003cdiv\u003e\n\u003cstrong\u003eDimensions\u003c\/strong\u003e:\u003c\/div\u003e\n\u003cdiv\u003e\u003ca href=\"https:\/\/cdn.shopify.com\/s\/files\/1\/1861\/0291\/files\/Horizon_BBQ_Dimensions_One_Document_V10.08.2021.pdf?v=1628607872\" referrerpolicy=\"origin\" title=\"Horizon Marine Grade BBQ Built In Dimensions.pdf\" target=\"_blank\"\u003e\u003cspan style=\"text-decoration: underline;\"\u003eHorizon Marine Grade BBQ Dimensions.pdf\u003c\/span\u003e\u003c\/a\u003e\u003c\/div\u003e\n\u003cdiv\u003e\u003c\/div\u003e\n\u003cdiv\u003e\u003c\/div\u003e\n\u003cdiv\u003e\u003c\/div\u003e\n\u003cdiv\u003e\u003cspan style=\"text-decoration: underline;\"\u003e\u003c\/span\u003e\u003c\/div\u003e\n\u003cdiv\u003e\u003cspan style=\"text-decoration: underline;\"\u003e\u003c\/span\u003e\u003c\/div\u003e\n\u003cdiv\u003e\u003cspan style=\"text-decoration: underline;\"\u003e\u003c\/span\u003e\u003c\/div\u003e\n\u003ch4\u003e\u003cspan\u003eManuals\u003c\/span\u003e\u003c\/h4\u003e\n\u003cdiv\u003e\u003cspan style=\"text-decoration: underline;\"\u003e\u003ca href=\"https:\/\/cdn.shopify.com\/s\/files\/1\/1861\/0291\/files\/Horizon_Instructions_V10.08.2021_Web.pdf?v=1628678938\" referrerpolicy=\"origin\" target=\"_blank\"\u003eHorizon BBQ Instructions.pdf\u003c\/a\u003e\u003ca href=\"https:\/\/cdn.shopify.com\/s\/files\/1\/1861\/0291\/files\/Horizon_data_sheet.pdf?17226170602663270849\" referrerpolicy=\"origin\" target=\"_blank\"\u003e\u003cbr\u003e\u003c\/a\u003e\u003ca href=\"https:\/\/cdn.shopify.com\/s\/files\/1\/1861\/0291\/files\/Horizon_Hood_instructions.pdf?11663536678129767317\" referrerpolicy=\"origin\" target=\"_blank\"\u003eHorizon Hood Instructions.pdf\u003c\/a\u003e\u003c\/span\u003e\u003c\/div\u003e"}
Tucker Horizon Marine Grade BBQ Built In with Slimline Hood
Tucker Horizon Marine Grade BBQ Built In with Slimline Hood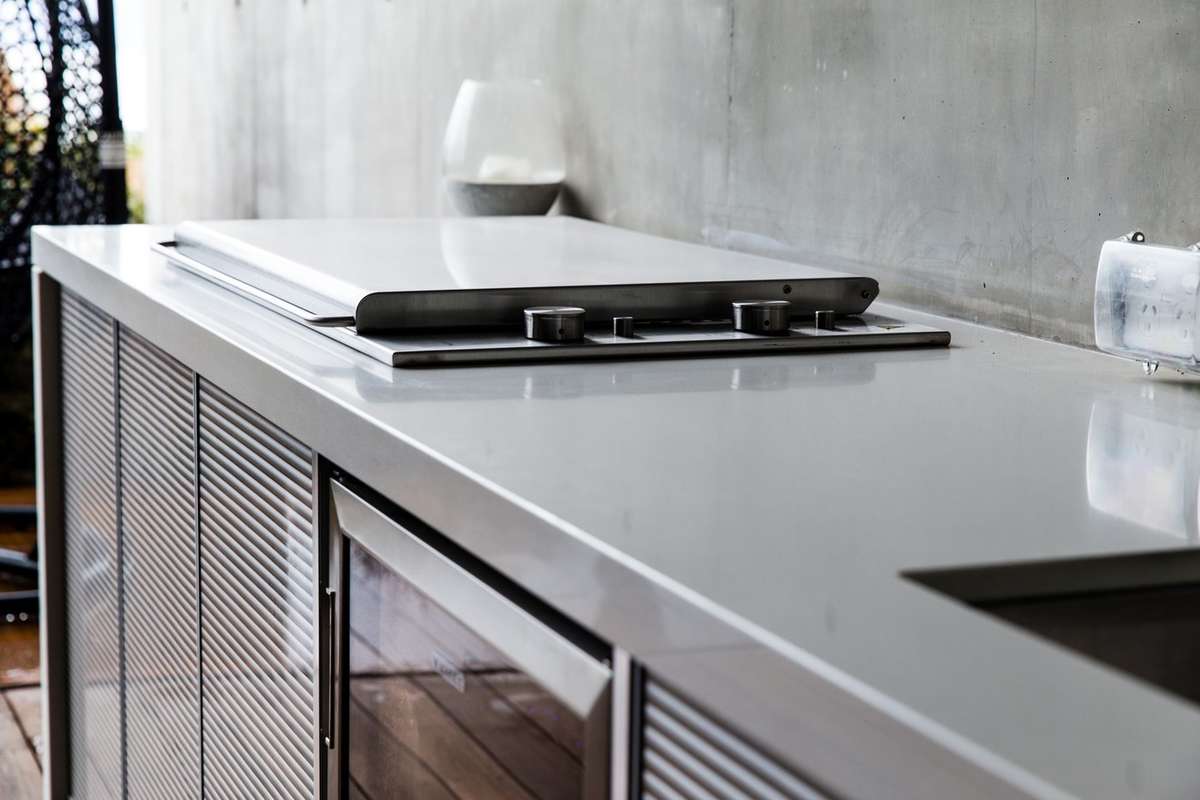 With an exterior surface finished in 316 marine grade stainless steel and an all interior stainless steel surface designed in commercial 304 grade. The Horizon barbecue is an Australian first designed for handling extreme weather conditions and heavy temperature demands.

Upright ergonomic solid stainless steel control knobs allow the Horizon barbecue to integrate seamlessly into bench tops or the like.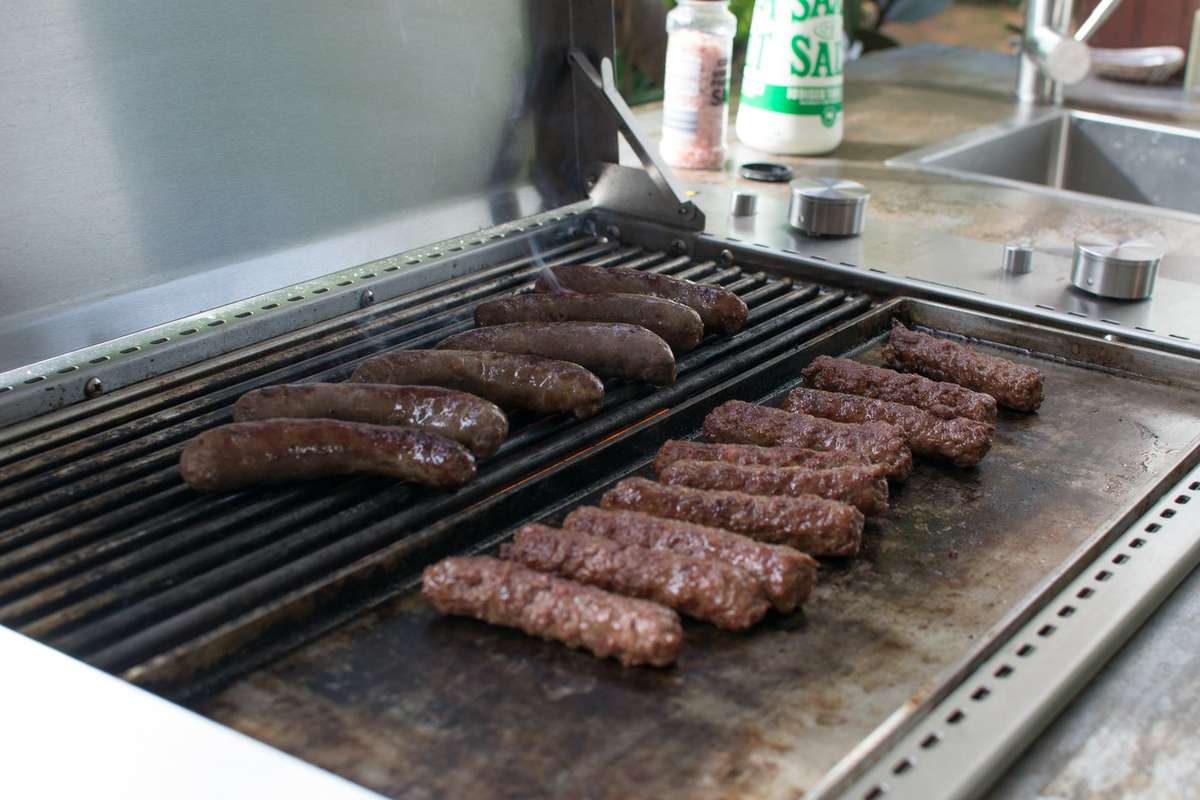 Heat distribution is amazingly even as the Horizon has two powerful stainless steel tri burners offering a distribution similar to that of up to 6 standard burners, punching out 52 megajules over a surface area of 630 x 450mm. With the clever design of the Tucker tri burners, cooking on the Horizon is a luxury with virtually no cold spots. Combine this with over 400 port holes per burner, no other Australian BBQ comes close to clean burning heat distribution that the Horizon offers.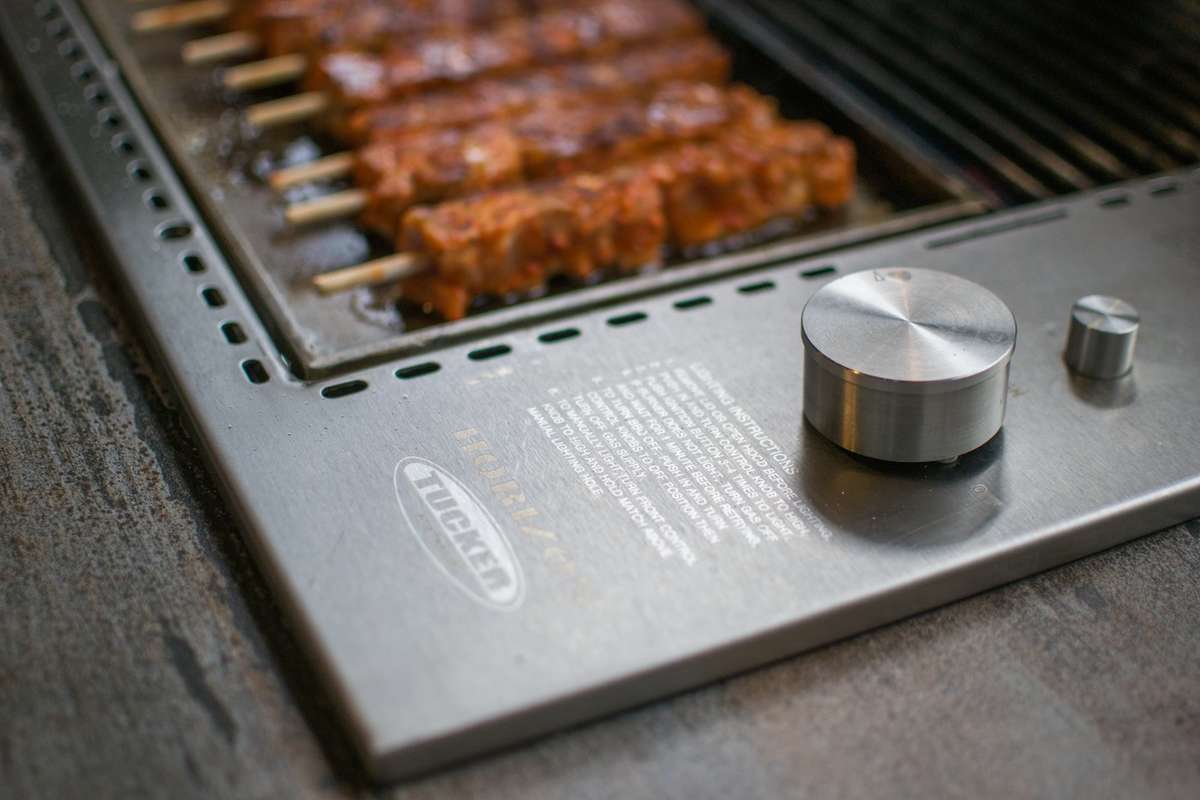 Beneath the open grill, a solid stainless steel vaporiser vanquishes flare and channels grease conveniently into a collector positioned on the left of the cooking area. The cooking surfaces and all internals can be easily removed for easy access, a feature that is unique to the Horizon BBQ.
The Horizon BBQ can be adapted to all cooking styles and methods. With the optional Tucker Charcoal Box (coming soon), simply insert the stainless steel box under your grill and you have the option to enjoy the flavour and heat that charcoal cooking offers.