{"id":1458640289872,"title":"Tucker R Class V12 BBQ Built In","handle":"tucker-r-class-v12-bbq-built-in-1","description":"\u003ch4\u003eDescription\u003c\/h4\u003e\n\u003cdiv class=\"videoWrapper\"\u003e\n\u003c!-- Copy \u0026 Pasted from YouTube --\u003e \u003ciframe width=\"560\" height=\"315\" src=\"https:\/\/www.youtube.com\/embed\/OFTbAmeoTpg\" frameborder=\"0\" allow=\"autoplay; encrypted-media\" allowfullscreen=\"\"\u003e\u003c\/iframe\u003e\n\u003c\/div\u003e\n\u003cp\u003e\u003cbr\u003eAt Tucker we believe our range of stainless steel BBQs are the best in Australia.\u003c\/p\u003e\n\u003cp\u003eOur new R Class model BBQs have been designed and developed with over 30 years of experience cumulating into what we believe is the best BBQ in Austraila.\u003cbr\u003e\u003cbr\u003e\u003cspan\u003eThe R Class is known as the 'V12' as it has 6 x R Class Dual Burners. The Built In R Class comes standard with stainless steel jacket and insulation blanket so you can install it safely into a variety of materials. You can choose between a slimline stainless steel easy-hinge lid, or a dynamic roasting hood with window.\u003c\/span\u003e\u003c\/p\u003e\n\u003cp\u003e\u003cu\u003eFirebox Design\u003cbr\u003e\u003cbr\u003e\u003c\/u\u003eThe fire box of the R Class BBQ is constructed wholly from high quality 304 grade stainless steel to cope with the rigors of high temperatures and corrosion from coastal conditions, of which lessor BBQ fireboxes just cannot cope with.\u003c\/p\u003e\n\u003cp\u003eR Class fireboxes are fully seam welded so that no cooking oil or grease can leak out of the firebox making sure it will always drain into the grease collection tray for easy cleaning.\u003c\/p\u003e\n\u003cp\u003eBetter heat retention results from having the firebox sealed as during heavy winds you can maintain an even cooking temperature the same as if it was a sunny calm day.\u003c\/p\u003e\n\u003cp\u003eMost BBQs have lots of air vents where heat can be released causing problems maintaining steady cooking temperatures and in some cases the wind may even blow out your burners, this is dangerous as gas will continue to flow unburnt down and around the BBQ unknown to you.\u003c\/p\u003e\n\u003cp\u003e \u003c\/p\u003e\n\u003cp\u003e\u003cu\u003eBurner Design\u003c\/u\u003e\u003c\/p\u003e\n\u003cp\u003eThe heart of the R Class BBQ lies in our new H Pattern Stainless Steel Tube Burner, this burner has been developed specifically for the R Class Series BBQs. The burners ports on the H burners are positioned vertically on top of the burner tubes further increasing our efficiencies. In testing we increased heat output significantly using less gas and reduced emission by over 20 %. The H pattern design further increases our ability to spread heat more evenly across the entire cooking surface reducing cold spots. The top port design also helps in reducing fatigue on the actual burner tubes which in turn increases the life span of the burners.  Most BBQs use Burner technology designed years ago and generally they are thirsty on the gas, have poor heat distribution and have a limited life span.\u003c\/p\u003e\n\u003cp\u003e \u003c\/p\u003e\n\u003cp\u003e\u003cu\u003eFlare Guard Design\u003c\/u\u003e\u003c\/p\u003e\n\u003cp\u003eThe R Class has another important new design feature developed to integrate with the new H Pattern Burners, it is our new Dual Flare Guard System.\u003c\/p\u003e\n\u003cp\u003eThe Flare Guards are positioned directly above each burner beneath the open grill section of the BBQ. This system protects the burners from unwanted spills as well as gives you full control of unwanted flare caused by excess oils coming from your meat or marinade. Heat is spread more efficiently across the grill section of your BBQ all of this culminating in offering you for the first time total fingertip control of the temperature of your BBQ.\u003c\/p\u003e\n\u003cp\u003eDuring cooking if un wanted flare should occur, simply turn the burner down beneath the area flaring and immediately the flare will be reduced in seconds. Having the ability to have total control of your BBQ is something Tucker has been working toward for many years now and it is now available to you in the New R Class Series BBQs.\u003c\/p\u003e\n\u003cp\u003eGenerally with most BBQs when to much oil from your sausages or meat starts to find its way down through the open grill and it finds its way on the flame tammers, ceramic rock or the like the BBQ will resemble an inferno and they offer no control of the grease fire inside the firebox, even turning off the burners the flames will continue to char and burn your food.\u003c\/p\u003e\n\u003cp\u003e\u003cu\u003eGas Control Valves and manifold\u003c\/u\u003e\u003c\/p\u003e\n\u003cp\u003eTucker R Class BBQs are fitted with solid Solid Stainless Steel Control Knobs designed for the life of the BBQ.\u003c\/p\u003e\n\u003cp\u003eDurable and fully adjustable gas control valves have been chosen, this way  you are able to fine tune the low settings on your burners so you can suit your gas pressure supply and set up your BBQ perfectly.\u003c\/p\u003e\n\u003cp\u003eThe gas valves screw into a stainless steel gas manifold which carries the supply of gas to the burners, this is a feature few BBQs in the world use and one that we can offer a life time warranty on. This design is the best manifold design available and will last the entire life of the BBQ and makes any servicing or replacing of parts simple and easy to do.\u003c\/p\u003e\n\u003cp\u003eThe R Class also has Flame Failure valves approved on them and is available as an option for people concerned with added safety. This is a first for Tucker and a feature normally only found on commercial appliances. \u003c\/p\u003e\n\u003cp\u003e\u003cu\u003eIgnition\u003c\/u\u003e\u003c\/p\u003e\n\u003cp\u003eAll of Tucker BBQs share the same Ignition System. We have found the push button piezo ignitors too be the best ignition for any BBQ that is exposed in a corrosive environment. These ignitions are as durable if not more than any other ignition and every part of them is able to be seperated so it can be easily repaired and at a low cost.\u003c\/p\u003e\n\u003cp\u003eMost BBQs use rotary ignitions that are cheap and not easily replaced because everything is integrated together, this system is more prone to failure faster in a corrosive environment and more expensive to repair.\u003c\/p\u003e\n\u003cp\u003e\u003cu\u003eGrease tray\u003c\/u\u003e\u003c\/p\u003e\n\u003cp\u003eThe R Class grease trays are small and easily removed for cleaning. They are cleverly hidden under a foldable grill at the base of the BBQ which gives the R Class a premium look unrivalled. Designed compact so they are easy to remove, the grease trays are a breeze to clean as they do not require lining with sand, kitty litter or foil, they simply require rinsing out under a hot tap in the sink. This design is far superior to the cumbersome large sand filled drip trays predominantly found in BBQs which are prone to catching on fire and causing massive costs in repairs.   \u003c\/p\u003e\n\u003cp\u003e\u003cu\u003eCooking Surface\u003c\/u\u003e\u003c\/p\u003e\n\u003cp\u003eThe R Class cooking surface is made up of a combination of solid plate and open grills, these are also made from solid stainless steel making them easy to clean and made for the life of the BBQ. They are available in a wide range of configurations available on request from all open grill, to all solid hot plate depending on how you would like it.\u003c\/p\u003e\n\u003cp\u003e\u003cu\u003eRoasting Hoods\u003c\/u\u003e\u003c\/p\u003e\n\u003cp\u003eR Class Roasting Hoods are an option. They all come with a stainless steel rear cooking shelf that can fold away into the back of the roasting hood body if not required and a roasting rack and pan are also supplied to make roasting larger pieces of meat, poultry or fish easy. The hoods have a temperature gauge and a large glass viewing panel integrated into them. The roasting hoods have a long ergonomic handle fitted to make it easy to lift the hood section open for easy access.\u003c\/p\u003e\n\u003cp\u003eA Flat stainless steel weather cover is another option which simply hinges onto the rear of the BBQ, simply choose which style you prefer, its your choice. On the plus one model BBQs you can choose twin hoods or a hood and flat lid or two flat lids, we let you decide which way you want to set up your BBQ.\u003c\/p\u003e\n\u003cp\u003e\u003cu\u003eWok Burners\u003c\/u\u003e\u003c\/p\u003e\n\u003cp\u003eThe New R Class Series can be optioned in a variety of ways from an integrated SS Wok burner or an S Wok Burner to an S Wok Burner that drops into your side shelf. The new SS Woks are the most powerful at 18 MJs and when integrated into the BBQs firebox offer you the facility to incorporate twin Roasting Hoods, this way you can grill and roast at the same time. The integrated SS Wok has an optional solid hot plate available so it also becomes another solid cooking surface.\u003c\/p\u003e\n\u003cp\u003e\u003cu\u003eOutdoor Kitchen Cabinetry\u003c\/u\u003e\u003c\/p\u003e\n\u003cp\u003eTucker offer a full range of outdoor kitchen cabinetry to integrate the R Class BBQs into if you want to build a BBQ into an outdoor kitchen. We have sink cabinets with a choice of large or small sinks with mixing taps, we have a selection of glass front fridges, dishwashers, range hoods, wok burners, drawers, cupboards that can be made to measure. We have benchtops made of granite or low maintenance porcelain stone in a vast range of colours. The R Class Series BBQs have been designed to seamlessly fit into any outdoor kitchen with a range of options so as to make building one into your kitchen simple,  you can update your outdoor area over time or all at once, the products are durable and our quality is second to none.\u003c\/p\u003e\n\u003cp\u003eOver all Tucker R Class BBQ Series has been designed to work well and last a long time in any environment it is put into, if servicing is needed they are made to be repaired easily and at a very low cost in comparison to any other BBQ on the market in Australia.\u003c\/p\u003e\n\u003ch4\u003eData Sheet\u003c\/h4\u003e\n\u003cp\u003e\u003ca href=\"https:\/\/cdn.shopify.com\/s\/files\/1\/1861\/0291\/files\/R_CLASS_V12_built_in_data_sheet.pdf?1474152624179449985\" target=\"_blank\" rel=\"noopener noreferrer\"\u003eR Class V12 Built In Data Sheet.pdf\u003c\/a\u003e\u003c\/p\u003e","published_at":"2018-04-30T14:53:43+10:00","created_at":"2018-08-10T16:39:42+10:00","vendor":"Tucker Barbecues","type":"BBQ","tags":["6 Burners","Built In","Gas","R Class","Tucker"],"price":278700,"price_min":278700,"price_max":385800,"available":true,"price_varies":true,"compare_at_price":309700,"compare_at_price_min":309700,"compare_at_price_max":428700,"compare_at_price_varies":true,"variants":[{"id":12600811192400,"title":"LPG (Bottle Gas) \/ Hinged Flat Lid","option1":"LPG (Bottle Gas)","option2":"Hinged Flat Lid","option3":null,"sku":"RCV8BBQ-1","requires_shipping":true,"taxable":false,"featured_image":{"id":3855740141648,"product_id":1458640289872,"position":2,"created_at":"2018-08-10T16:45:18+10:00","updated_at":"2018-08-10T16:45:18+10:00","alt":null,"width":2839,"height":1597,"src":"https:\/\/cdn.shopify.com\/s\/files\/1\/1861\/0291\/products\/Rclass_V12_with_Lid_1.jpg?v=1533883518","variant_ids":[12600811192400,12600811225168]},"available":true,"name":"Tucker R Class V12 BBQ Built In - LPG (Bottle Gas) \/ Hinged Flat Lid","public_title":"LPG (Bottle Gas) \/ Hinged Flat Lid","options":["LPG (Bottle Gas)","Hinged Flat Lid"],"price":278700,"weight":0,"compare_at_price":309700,"inventory_quantity":1,"inventory_management":null,"inventory_policy":"deny","barcode":""},{"id":12600811225168,"title":"+$90 Natural Gas \/ Hinged Flat Lid","option1":"+$90 Natural Gas","option2":"Hinged Flat Lid","option3":null,"sku":"RCV8BBQ-3","requires_shipping":true,"taxable":false,"featured_image":{"id":3855740141648,"product_id":1458640289872,"position":2,"created_at":"2018-08-10T16:45:18+10:00","updated_at":"2018-08-10T16:45:18+10:00","alt":null,"width":2839,"height":1597,"src":"https:\/\/cdn.shopify.com\/s\/files\/1\/1861\/0291\/products\/Rclass_V12_with_Lid_1.jpg?v=1533883518","variant_ids":[12600811192400,12600811225168]},"available":true,"name":"Tucker R Class V12 BBQ Built In - +$90 Natural Gas \/ Hinged Flat Lid","public_title":"+$90 Natural Gas \/ Hinged Flat Lid","options":["+$90 Natural Gas","Hinged Flat Lid"],"price":286800,"weight":0,"compare_at_price":318700,"inventory_quantity":0,"inventory_management":null,"inventory_policy":"deny","barcode":""},{"id":12600811257936,"title":"+$90 Natural Gas \/ +$1100 Window Roasting Hood","option1":"+$90 Natural Gas","option2":"+$1100 Window Roasting Hood","option3":null,"sku":"RCV8BBQ-4","requires_shipping":true,"taxable":false,"featured_image":{"id":3855739715664,"product_id":1458640289872,"position":1,"created_at":"2018-08-10T16:41:41+10:00","updated_at":"2018-08-10T16:44:58+10:00","alt":null,"width":1862,"height":1109,"src":"https:\/\/cdn.shopify.com\/s\/files\/1\/1861\/0291\/products\/Rclass_V12_1.jpg?v=1533883498","variant_ids":[12600811257936,12600811290704]},"available":true,"name":"Tucker R Class V12 BBQ Built In - +$90 Natural Gas \/ +$1100 Window Roasting Hood","public_title":"+$90 Natural Gas \/ +$1100 Window Roasting Hood","options":["+$90 Natural Gas","+$1100 Window Roasting Hood"],"price":385800,"weight":0,"compare_at_price":428700,"inventory_quantity":0,"inventory_management":null,"inventory_policy":"deny","barcode":""},{"id":12600811290704,"title":"LPG (Bottle Gas) \/ +$1100 Window Roasting Hood","option1":"LPG (Bottle Gas)","option2":"+$1100 Window Roasting Hood","option3":null,"sku":"RCBBQ","requires_shipping":true,"taxable":true,"featured_image":{"id":3855739715664,"product_id":1458640289872,"position":1,"created_at":"2018-08-10T16:41:41+10:00","updated_at":"2018-08-10T16:44:58+10:00","alt":null,"width":1862,"height":1109,"src":"https:\/\/cdn.shopify.com\/s\/files\/1\/1861\/0291\/products\/Rclass_V12_1.jpg?v=1533883498","variant_ids":[12600811257936,12600811290704]},"available":true,"name":"Tucker R Class V12 BBQ Built In - LPG (Bottle Gas) \/ +$1100 Window Roasting Hood","public_title":"LPG (Bottle Gas) \/ +$1100 Window Roasting Hood","options":["LPG (Bottle Gas)","+$1100 Window Roasting Hood"],"price":377700,"weight":0,"compare_at_price":419700,"inventory_quantity":1,"inventory_management":null,"inventory_policy":"deny","barcode":""}],"images":["\/\/cdn.shopify.com\/s\/files\/1\/1861\/0291\/products\/Rclass_V12_1.jpg?v=1533883498","\/\/cdn.shopify.com\/s\/files\/1\/1861\/0291\/products\/Rclass_V12_with_Lid_1.jpg?v=1533883518"],"featured_image":"\/\/cdn.shopify.com\/s\/files\/1\/1861\/0291\/products\/Rclass_V12_1.jpg?v=1533883498","options":["Gas Type","Roasting Hood"],"content":"\u003ch4\u003eDescription\u003c\/h4\u003e\n\u003cdiv class=\"videoWrapper\"\u003e\n\u003c!-- Copy \u0026 Pasted from YouTube --\u003e \u003ciframe width=\"560\" height=\"315\" src=\"https:\/\/www.youtube.com\/embed\/OFTbAmeoTpg\" frameborder=\"0\" allow=\"autoplay; encrypted-media\" allowfullscreen=\"\"\u003e\u003c\/iframe\u003e\n\u003c\/div\u003e\n\u003cp\u003e\u003cbr\u003eAt Tucker we believe our range of stainless steel BBQs are the best in Australia.\u003c\/p\u003e\n\u003cp\u003eOur new R Class model BBQs have been designed and developed with over 30 years of experience cumulating into what we believe is the best BBQ in Austraila.\u003cbr\u003e\u003cbr\u003e\u003cspan\u003eThe R Class is known as the 'V12' as it has 6 x R Class Dual Burners. The Built In R Class comes standard with stainless steel jacket and insulation blanket so you can install it safely into a variety of materials. You can choose between a slimline stainless steel easy-hinge lid, or a dynamic roasting hood with window.\u003c\/span\u003e\u003c\/p\u003e\n\u003cp\u003e\u003cu\u003eFirebox Design\u003cbr\u003e\u003cbr\u003e\u003c\/u\u003eThe fire box of the R Class BBQ is constructed wholly from high quality 304 grade stainless steel to cope with the rigors of high temperatures and corrosion from coastal conditions, of which lessor BBQ fireboxes just cannot cope with.\u003c\/p\u003e\n\u003cp\u003eR Class fireboxes are fully seam welded so that no cooking oil or grease can leak out of the firebox making sure it will always drain into the grease collection tray for easy cleaning.\u003c\/p\u003e\n\u003cp\u003eBetter heat retention results from having the firebox sealed as during heavy winds you can maintain an even cooking temperature the same as if it was a sunny calm day.\u003c\/p\u003e\n\u003cp\u003eMost BBQs have lots of air vents where heat can be released causing problems maintaining steady cooking temperatures and in some cases the wind may even blow out your burners, this is dangerous as gas will continue to flow unburnt down and around the BBQ unknown to you.\u003c\/p\u003e\n\u003cp\u003e \u003c\/p\u003e\n\u003cp\u003e\u003cu\u003eBurner Design\u003c\/u\u003e\u003c\/p\u003e\n\u003cp\u003eThe heart of the R Class BBQ lies in our new H Pattern Stainless Steel Tube Burner, this burner has been developed specifically for the R Class Series BBQs. The burners ports on the H burners are positioned vertically on top of the burner tubes further increasing our efficiencies. In testing we increased heat output significantly using less gas and reduced emission by over 20 %. The H pattern design further increases our ability to spread heat more evenly across the entire cooking surface reducing cold spots. The top port design also helps in reducing fatigue on the actual burner tubes which in turn increases the life span of the burners.  Most BBQs use Burner technology designed years ago and generally they are thirsty on the gas, have poor heat distribution and have a limited life span.\u003c\/p\u003e\n\u003cp\u003e \u003c\/p\u003e\n\u003cp\u003e\u003cu\u003eFlare Guard Design\u003c\/u\u003e\u003c\/p\u003e\n\u003cp\u003eThe R Class has another important new design feature developed to integrate with the new H Pattern Burners, it is our new Dual Flare Guard System.\u003c\/p\u003e\n\u003cp\u003eThe Flare Guards are positioned directly above each burner beneath the open grill section of the BBQ. This system protects the burners from unwanted spills as well as gives you full control of unwanted flare caused by excess oils coming from your meat or marinade. Heat is spread more efficiently across the grill section of your BBQ all of this culminating in offering you for the first time total fingertip control of the temperature of your BBQ.\u003c\/p\u003e\n\u003cp\u003eDuring cooking if un wanted flare should occur, simply turn the burner down beneath the area flaring and immediately the flare will be reduced in seconds. Having the ability to have total control of your BBQ is something Tucker has been working toward for many years now and it is now available to you in the New R Class Series BBQs.\u003c\/p\u003e\n\u003cp\u003eGenerally with most BBQs when to much oil from your sausages or meat starts to find its way down through the open grill and it finds its way on the flame tammers, ceramic rock or the like the BBQ will resemble an inferno and they offer no control of the grease fire inside the firebox, even turning off the burners the flames will continue to char and burn your food.\u003c\/p\u003e\n\u003cp\u003e\u003cu\u003eGas Control Valves and manifold\u003c\/u\u003e\u003c\/p\u003e\n\u003cp\u003eTucker R Class BBQs are fitted with solid Solid Stainless Steel Control Knobs designed for the life of the BBQ.\u003c\/p\u003e\n\u003cp\u003eDurable and fully adjustable gas control valves have been chosen, this way  you are able to fine tune the low settings on your burners so you can suit your gas pressure supply and set up your BBQ perfectly.\u003c\/p\u003e\n\u003cp\u003eThe gas valves screw into a stainless steel gas manifold which carries the supply of gas to the burners, this is a feature few BBQs in the world use and one that we can offer a life time warranty on. This design is the best manifold design available and will last the entire life of the BBQ and makes any servicing or replacing of parts simple and easy to do.\u003c\/p\u003e\n\u003cp\u003eThe R Class also has Flame Failure valves approved on them and is available as an option for people concerned with added safety. This is a first for Tucker and a feature normally only found on commercial appliances. \u003c\/p\u003e\n\u003cp\u003e\u003cu\u003eIgnition\u003c\/u\u003e\u003c\/p\u003e\n\u003cp\u003eAll of Tucker BBQs share the same Ignition System. We have found the push button piezo ignitors too be the best ignition for any BBQ that is exposed in a corrosive environment. These ignitions are as durable if not more than any other ignition and every part of them is able to be seperated so it can be easily repaired and at a low cost.\u003c\/p\u003e\n\u003cp\u003eMost BBQs use rotary ignitions that are cheap and not easily replaced because everything is integrated together, this system is more prone to failure faster in a corrosive environment and more expensive to repair.\u003c\/p\u003e\n\u003cp\u003e\u003cu\u003eGrease tray\u003c\/u\u003e\u003c\/p\u003e\n\u003cp\u003eThe R Class grease trays are small and easily removed for cleaning. They are cleverly hidden under a foldable grill at the base of the BBQ which gives the R Class a premium look unrivalled. Designed compact so they are easy to remove, the grease trays are a breeze to clean as they do not require lining with sand, kitty litter or foil, they simply require rinsing out under a hot tap in the sink. This design is far superior to the cumbersome large sand filled drip trays predominantly found in BBQs which are prone to catching on fire and causing massive costs in repairs.   \u003c\/p\u003e\n\u003cp\u003e\u003cu\u003eCooking Surface\u003c\/u\u003e\u003c\/p\u003e\n\u003cp\u003eThe R Class cooking surface is made up of a combination of solid plate and open grills, these are also made from solid stainless steel making them easy to clean and made for the life of the BBQ. They are available in a wide range of configurations available on request from all open grill, to all solid hot plate depending on how you would like it.\u003c\/p\u003e\n\u003cp\u003e\u003cu\u003eRoasting Hoods\u003c\/u\u003e\u003c\/p\u003e\n\u003cp\u003eR Class Roasting Hoods are an option. They all come with a stainless steel rear cooking shelf that can fold away into the back of the roasting hood body if not required and a roasting rack and pan are also supplied to make roasting larger pieces of meat, poultry or fish easy. The hoods have a temperature gauge and a large glass viewing panel integrated into them. The roasting hoods have a long ergonomic handle fitted to make it easy to lift the hood section open for easy access.\u003c\/p\u003e\n\u003cp\u003eA Flat stainless steel weather cover is another option which simply hinges onto the rear of the BBQ, simply choose which style you prefer, its your choice. On the plus one model BBQs you can choose twin hoods or a hood and flat lid or two flat lids, we let you decide which way you want to set up your BBQ.\u003c\/p\u003e\n\u003cp\u003e\u003cu\u003eWok Burners\u003c\/u\u003e\u003c\/p\u003e\n\u003cp\u003eThe New R Class Series can be optioned in a variety of ways from an integrated SS Wok burner or an S Wok Burner to an S Wok Burner that drops into your side shelf. The new SS Woks are the most powerful at 18 MJs and when integrated into the BBQs firebox offer you the facility to incorporate twin Roasting Hoods, this way you can grill and roast at the same time. The integrated SS Wok has an optional solid hot plate available so it also becomes another solid cooking surface.\u003c\/p\u003e\n\u003cp\u003e\u003cu\u003eOutdoor Kitchen Cabinetry\u003c\/u\u003e\u003c\/p\u003e\n\u003cp\u003eTucker offer a full range of outdoor kitchen cabinetry to integrate the R Class BBQs into if you want to build a BBQ into an outdoor kitchen. We have sink cabinets with a choice of large or small sinks with mixing taps, we have a selection of glass front fridges, dishwashers, range hoods, wok burners, drawers, cupboards that can be made to measure. We have benchtops made of granite or low maintenance porcelain stone in a vast range of colours. The R Class Series BBQs have been designed to seamlessly fit into any outdoor kitchen with a range of options so as to make building one into your kitchen simple,  you can update your outdoor area over time or all at once, the products are durable and our quality is second to none.\u003c\/p\u003e\n\u003cp\u003eOver all Tucker R Class BBQ Series has been designed to work well and last a long time in any environment it is put into, if servicing is needed they are made to be repaired easily and at a very low cost in comparison to any other BBQ on the market in Australia.\u003c\/p\u003e\n\u003ch4\u003eData Sheet\u003c\/h4\u003e\n\u003cp\u003e\u003ca href=\"https:\/\/cdn.shopify.com\/s\/files\/1\/1861\/0291\/files\/R_CLASS_V12_built_in_data_sheet.pdf?1474152624179449985\" target=\"_blank\" rel=\"noopener noreferrer\"\u003eR Class V12 Built In Data Sheet.pdf\u003c\/a\u003e\u003c\/p\u003e"}
Tucker R Class V12 BBQ Built In
Tucker R Class V12 BBQ Built In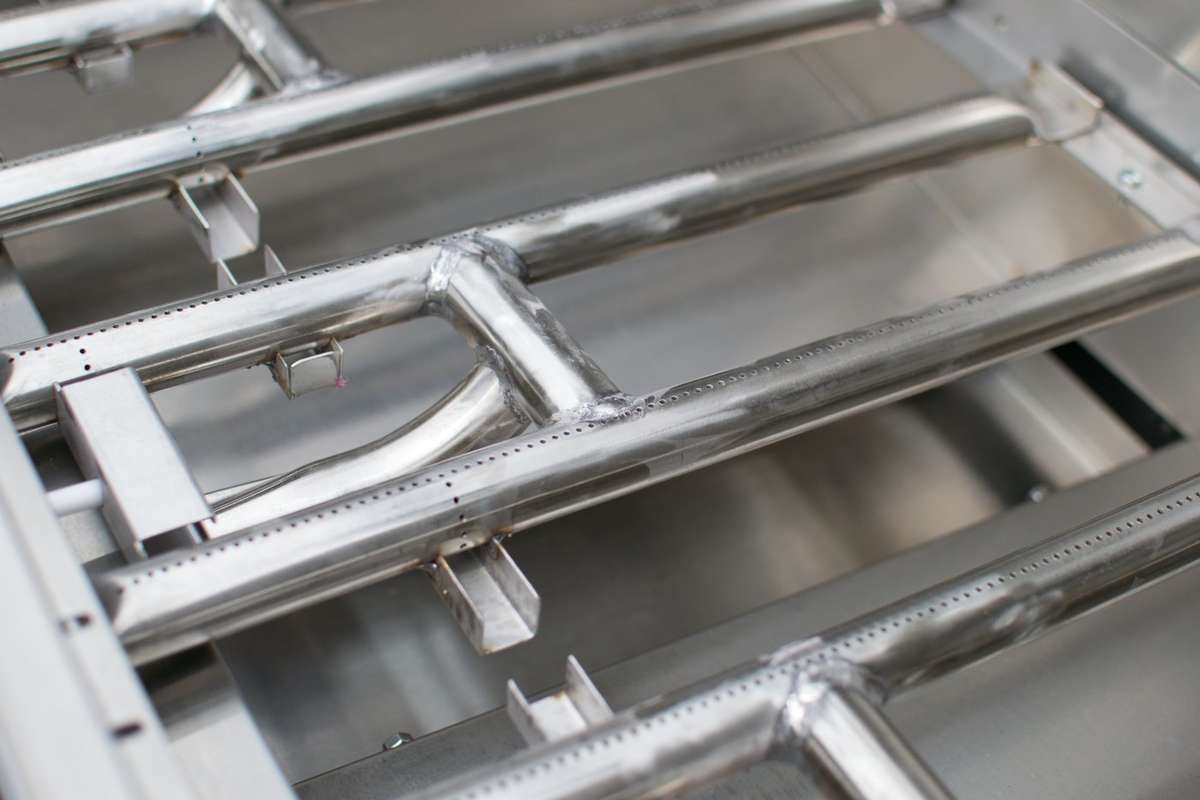 The heart of the R Class BBQ lies in our new H Pattern Stainless Steel Tube Burner, this burner has been developed specifically for the R Class Series BBQs. The burners ports on the H burners are positioned vertically on top of the burner tubes further increasing our efficiencies. In testing we increased heat output significantly using less gas and reduced emission by over 20 %. The H pattern design further increases our ability to spread heat more evenly across the entire cooking surface reducing cold spots. The top port design also helps in reducing fatigue on the actual burner tubes which in turn increases the life span of the burners. Most BBQs use Burner technology designed years ago and generally they are thirsty on the gas, have poor heat distribution and have a limited life span.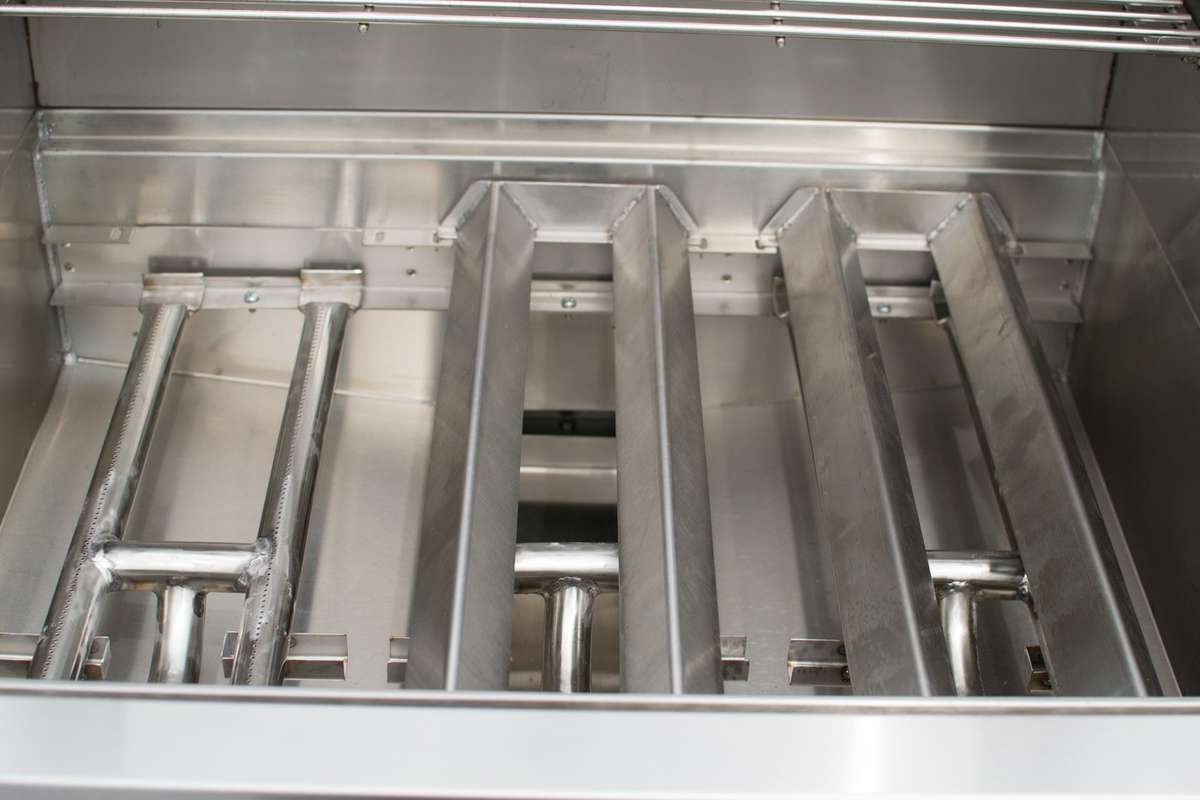 The R Class has another important new design feature developed to integrate with the new H Pattern Burners, it is our new Dual Flare Guard System.


The Flare Guards are positioned directly above each burner beneath the open grill section of the BBQ. This system protects the burners from unwanted spills as well as gives you full control of unwanted flare caused by excess oils coming from your meat or marinade. Heat is spread more efficiently across the grill section of your BBQ all of this culminating in offering you for the first time total fingertip control of the temperature of your BBQ.


During cooking if un wanted flare should occur, simply turn the burner down beneath the area flaring and immediately the flare will be reduced in seconds. Having the ability to have total control of your BBQ is something Tucker has been working toward for many years now and it is now available to you in the New R Class Series BBQs.


The R Class grease trays are small and easily removed for cleaning. They are cleverly hidden under a foldable grill at the base of the BBQ which gives the R Class a premium look unrivalled. Designed compact so they are easy to remove, the grease trays are a breeze to clean as they do not require lining with sand, kitty litter or foil, they simply require rinsing out under a hot tap in the sink. This design is far superior to the cumbersome large sand filled drip trays predominantly found in BBQs which are prone to catching on fire and causing massive costs in repairs.
Over all Tuckers R Class BBQ Series has been designed to work well and last a long time in any environment it is put into, if servicing is needed they are made to be repaired easily and at a very low cost in comparison to any other BBQ on the market in Australia.


You will enjoy the difference of Tuckers New R Class.